Opportunity for Creatives: Language Explorers with Mother Tongues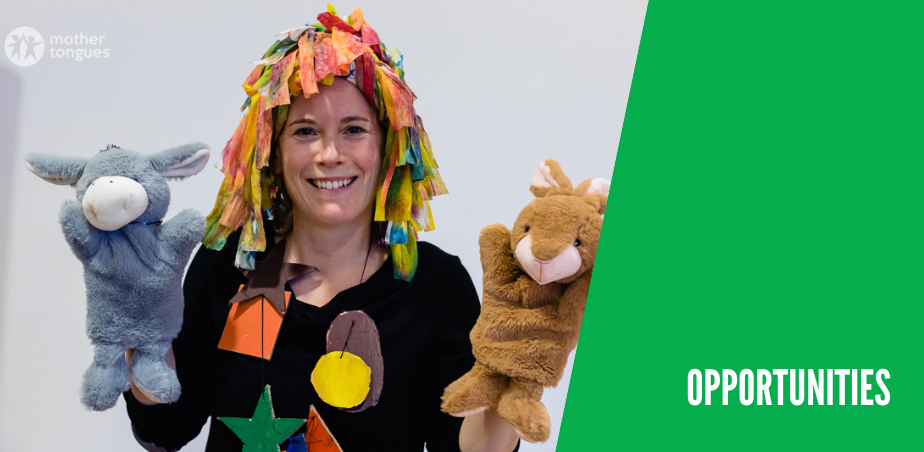 Mother Tongues
Language Explorers facilitator training and work opportunity.
Do you have experience developing/delivering creative experiences to children? Or are you an artist? Are you fluent in another language other than English? Are you passionate about making a difference?
Mother Tongues' is currently training individuals to enter a paid panel of facilitators to draw from when delivering workshops across the country as part of their flagship programme 'Language Explorers'.
Mother Tongues' envision a society that embraces different cultures and languages. Their mission is to curate multilingual creative experiences where artists and communities connect across languages and cultures. Language Explorers is Mother Tongues' flagship programme for children aged 3 to 6. Language Explorers provides a child-centred, interactive and engaging experience for all children – monolingual, bilingual and plurilingual.
Who should register?
Developed to be equal parts practical and inspirational, this new training is designed for artists or creative people with a passion for working with children and who have experience in developing and/or delivering creative experiences to children.
Training
This training combines online and in-person elements. It will run over 8 weeks with an estimated overall time commitment of 40 hours. Self-directed learning is an important element of this training.
For full details and to apply go to mothertongues.ie/2022/07/08/language-explorers-facilitator-training-and-work-opportunity/
Mother Tongues is an equal opportunity employer.
We encourage applications from individuals of a variety of backgrounds and levels of experience.
---