Minister Catherine Martin launches Cruinniú na nÓg 2023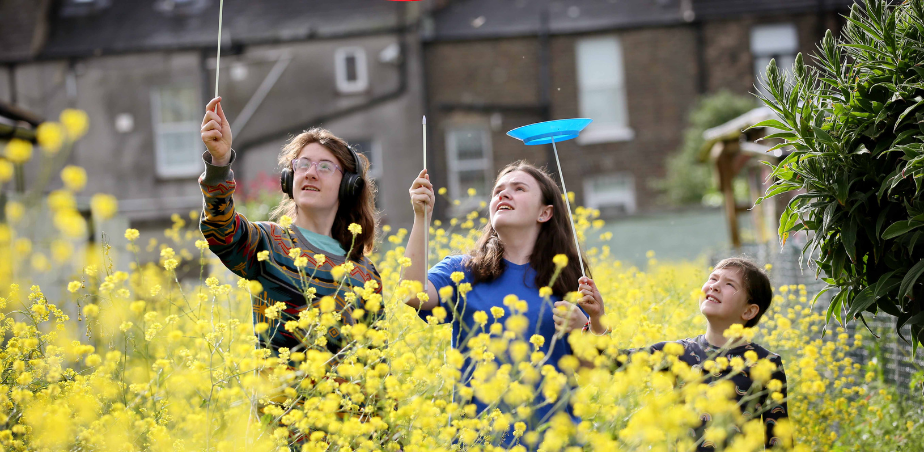 Creative Ireland Programme
Date: 10th June 2023
On the 11th May at Mud Island Community Garden, Catherine Martin TD, Minister for Tourism, Culture, Arts, Gaeltacht, Sport and Media, announced details of Cruinniú na nÓg 2023, a day of free creative activity for young people.
This year Cruinniú na nÓg will be on 10th June 2023 and will feature more than 500 free creative activities for children and young people throughout the country. Cruinniú na nÓg 2023 is a collaboration between, the Creative Ireland Programme, local authorities and RTÉ and is the only event of its kind in the world.
Announcing Cruinniú na nÓg 2023, Minister Martin said:
"Every year Cruinniú na nÓg becomes more firmly embedded into the lives of young people all over Ireland. There's a huge programme of free creative activities for 10th June that will really stretch the imaginative muscles of all young people. Cruinniú na nÓg 2023 is a wonderful opportunity for the young people of Ireland to show off a little, try a new creative activity, make new friends and connect with their communities. Every event is free."
The Creative Ireland Programme and its strategic partners have developed a number of creative projects, all planned to go live on Saturday 10th June 2023. These include:
Irish Street Arts, Circus and Spectacle Network (ISACS) will host open days for young people who want to try their hand at circus skills and street spectacle at their dedicated venues in Cloughjordan, Cork, Dublin and Galway. For those that can't be there on the day, there will be a full range of online tutorials available.
Rhyme Island – This year Creative Ireland is teaming up with The Kabin Studio to get every young person in Ireland rapping. In preparation the Rhyme Island team have been travelling the length and breadth of the country holding a series of online and in-person workshops which will culminate in a massive day of rap at 17th Century Elizabeth Fort in Cork.
This is Art 2023 – Creative Ireland and RTÉ's wonderful art competition for young people has returned, and the winning entries will be announced on 10th June 2023 along with a national on-line digital gallery of all entries.
TG4 with support from the Gaeltacht division of the Department of Tourism, Culture, Arts, Gaeltacht, Sport and Media will support 'Our World'/ 'Mo Dhomhan' several Cruinniú na nÓg projects groups which will include sand art projects.
Cruinniú na nÓg 2023 Ambassadors
This year, Creative Ireland have asked five wonderful young people to represent Cruinniú na nOg 2023 to inspire others with their creative energy and skills.
Caterina Chiu Paone (8) Last year Caterina triumphed in This is Art with her cat collage. Not only does Caterina make art but she loves Irish dancing, playing the guitar, writing and singing her own songs.
Sibéal de Spáinn (8) loves swimming, making art and recording radio shows. She made her first radio show in 2022 on Raidió Rí-Rá. Making art makes her feel great and that she is helping the world.
Jamie (the King) Forde (17) has been rapping at Knocknaheeny's The Kabin in Cork since he was 10. With his friend MC Tiny (Darren Stewart) Jamie recorded ' Yeah Boy' which they have performed in all over Cork, at Dublin Castle and on The Late, Late Toy Show.
Jodie Byrne (14) is a member of the Dublin Circus Club which she joined in 2022. In a relatively short period of time she was walking on stilts in the St Patrick's Day parade. For Cruinniú na nÓg this year she will be at the Dublin Circus Club learning to spin plates.
Archie Evans (15) has been involved with the Dublin Circus Club for over a year and he loves it! Once a week he joins his friends in the club to learn everything from stilt walking to trapeze to juggling. Through circus he has met other circus teens from all over the country.
Consistent with the aims of the Government's Shared Island initiative to deepen beneficial cooperation and connections across the island of Ireland, Cruinniú na nÓg 2023 will be programmed on an all-island basis with cross-community events connecting children and young people from both sides of the border, including via our partners in Circus Explored and Rhyme Island. This action is an integral part of the Shared Island dimension to the Creative Ireland Programme which focuses on harnessing the power of culture and creativity to inspire connections between people, communities and places.
RTÉ is supporting Cruinniú na nÓg with a nationwide campaign on television, radio, online and digital.
For full events listings and further information go to: https://cruinniu.creativeireland.gov.ie/
---