!!!! Call for presentations: Portal Spring Regional Day 2023
Deadline: 3 February 2023, 5pm
Artists, teachers, academics and arts education professionals… Would you like to be part of the Portal Spring Regional Day? The Arts in Education Portal Team are seeking submissions for presentations for the Portal Spring Regional Day 2023 with a focus on the South-West Region. This regional event will take place in Cork City on 6th May 2023.
The event aims to connect teachers, artists, arts managers and anyone with an interest in art and creativity in education based in Cork, Kerry, Limerick and Tipperary. Practitioners can learn more about the Portal and what it offers, tell us about their work, connect with the community at regional level, share practice and find out what opportunities or events are available in their local area.
We are inviting proposals from organisations or individuals who are involved in arts and creative projects in education in the South-West, and who want to give inspiring presentations or workshops that can offer sharing of skills, practical approaches, new insights and critical thinking across the field, from a range of perspectives.
The 2023 event will also include an accompanying exhibition in partnership with Sample Studios at their gallery in the Lord Mayor's Pavilion, Fitzgerald Park. The exhibition will be an opportunity for artists from successful proposals to exhibit their own work. The exhibition will run from 27th April to 27th May.
Do you have a presentation that you would like to be included in the programme for the Portal Spring Regional Day? If so, please download our Proposal form from the link below. If you have any questions please get in touch by email to editor@artsineducation.ie.
Further Information
The programme includes two project presentations with up to two presenters.
Deadline: 5pm, 3 February 2023
Download the submission form Portal Spring Regional Day Proposal Form 2023.
!!!! 2022 Portal Spring Regional Day – Programme Announced
Arts in Education Portal 
Date: Saturday, 7th May 2022
The Arts in Education Portal's regional tour continues this spring with our first in-person event in 2 years! On Saturday, 7th May join us and our hosts at Kildare Education Support Centre for a series of discussions and creative workshops sharing experience and best practice from the sector in the Mid-East.
The programme for the day includes a presentation with artist Penelope Monaghan and Deirdre Rogers, Visual Arts Learning & Engagement Coordinator at Solstice Arts Centre sharing their experience on the recent BLAST project with Stackallen National School, Co.Meath, along with a panel discussion chaired by Jennifer Buggie, Teacher and Teacher-Artist Partnership (TAP) Lead Facilitator exploring the question 'How do we ensure the voice of the child is heard?' with panel speakers Dr Triona Stokes from the Froebel Department of Primary and Early Childhood Education, Maynooth University; Michelle Furlong, Portal Committee member and Creative Schools Manager with the Arts Council of Ireland and Mark Ball, Theatre-maker and Artistic Director of Super Paua.
In the afternoon join Kildare based photographer Brian Cregan for a hands-on practical session to explore composition, framing, apps and editing techniques to learn and improve photography skills using smartphones and tablets.
The morning discussions will be live streamed to ensure accessibility for those who cannot travel to the event in-person. In the afternoon for those joining us online a virtual creative workshop 'What is left and what left to lose?' will explore the Ardee Bog in County Louth and connections to land, place and nature with artist and writer Helen Flanagan on zoom.
Please note: ISL Interpretation will be available at the venue and online.
If you are joining us in-person or online book your place for this FREE event at www.eventbrite.ie/e/arts-in-education-portal-regional-day-mid-east-tickets. 
Schedule
10:00am —registration & coffee
10.30am — Welcome
10:45am — The Portal: a brief introduction Emma Kavanagh, Kids' Own Publishing Partnership (Portal Content Managers)
11:00am — Project Presentation 'Creative Connections': Visual Artist, Penelope Monaghan in conversation with Deirdre Rogers, Visual Arts Learning & Engagement Coordinator Solstice Arts Centre sharing their experience on the recent BLAST project with Stackallen National School, Co.Meath
11:45am— Panel Discussion: Dr Triona Stokes, Educator and Drama Practitioner with the Froebel Department of Primary and Early Childhood Education , Maynooth University; Michelle Furlong, Teacher and Creative Schools Manager with the Arts Council of Ireland; and theatre-maker, Mark Ball Artistic Director of Super Paua in conversation with Chair Jennifer Buggie, Teacher and Teacher-Artist Partnership Lead Facilitator.
1:00.pm — Q & A: whole panel of presenters
1:15pm —Lunch & networking
2.00pm — Hands-On Creative Workshops
In-person Creative Workshop: 'Smartphone and Tablet Photography Skills' with photographer Brian Cregan
Virtual Creative Workshop: 'What is left and what left to lose?' with artist and writer Helen Flanagan. Separate booking is required for this workshop as capacity is limited – Book here.
3:00pm—wrap up
For further information email events@artsineducation.ie.
!!!! Events: Schools programme at the Highlanes Gallery
Highlanes Gallery
Dates: April – Nov 2022
Highlanes Gallery are offering both primary and post-primary school programmes running from April – November 2022 that engage your students with art & ideas.
The primary school programme involves 4 free sessions where teachers will explore art with your class, looking, thinking and making, focusing on Highlanes' current exhibitions.
Facilitated by artist Claire Halpin, you and your class will visit Highlanes Gallery in-person in Session 1 to view the exhibition where Claire will use Visual Thinking Strategies methodology to activate reflection and discussion. Session 2 and 3 are practical and involve Claire visiting your classroom where you and your class group will work with ideas and materials liked with the exhibition. Session 4 concludes with a reflection and discussion session back in the gallery and with the other class groups (2) who will also have taken part in the programme.
Recent Acquisitions (Summer)
Wed 11th May Gallery Visit
Wed 18th May Classroom Session
Wed 25th May Classroom Session
Wed 1st June Gallery Feedback Session
Eithne Jordan Solo Exhibition (Autumn)
Wed 7th Sept Gallery Visit
Wed 14th Sept Classroom Session
Wed 21st Sept Classroom Session
Wed 28th Sept Gallery Feedback Session
Brian Fay – The Most Recent Forever (Winter)
Wed 12th Oct Gallery Visit
Wed 19th Oct Classroom Session
Wed 26th Oct Classroom Session
Wed 9th Nov Gallery Feedback Session
Also on offer are post-primary guided tours of Highlanes' current exhibition 'We are here'. This exhibition which was co-curated by a group of artist-art teachers and lecturers continues until 16th April. The guided tours will focus on the Leaving Cert Curriculum and/or other approaches that are of interest to your students.
Dates: April – Nov 2022
Both programmes plus materials are free to teachers and their students. To book your place, or get more information, please email Simon Colfer at info@highlanes.ie
!!!! Call for presentations and workshops: Portal Spring Regional Day 2022
Arts in Education
Deadline: 5pm, 31 March 2022
Artists, teachers, academics and arts education professionals… Would you like to be part of the Portal Spring Regional Day? The Arts in Education Portal Team are seeking submissions for presentations and workshops for the Portal Spring Regional Day 2022 with a focus on Kildare, Wicklow, Meath and Louth. This regional event will take place in the Mid-East at the Kildare Education Support Centre on Saturday, 7 May, 2022.
The event aims to connect teachers, artists, arts managers and anyone with an interest in arts in education based in Kildare, Wicklow, Meath and Louth. Practitioners can learn more about the Portal and what it offers, tell us about their work, connect with the community at regional level, share practice and find out what opportunities or events are available in their local area.
We are inviting proposals from organisations or individuals who are involved in arts and creative projects in education in the Mid-East, and who want to give inspiring presentations or workshops that can offer sharing of skills, practical approaches, new insights and critical thinking across the field, from a range of perspectives.
Deadline: 5pm, 31 March 2022
Do you have a workshop or presentation that you would like to be included in the programme for the Portal Spring Regional Day? If so, please get in touch by email to editor@artsineducation.ie.
Further Information
Creative workshop facilitators must be based in the Mid-East Region (Kildare, Wicklow, Meath and Louth).
The programme will include two creative workshops: one in-person and one online.
The programme includes one project presentation with up to two presenters.
!!!! Job Opportunity: Music Generation Development Officer, Meath (Re-advertisement)
Louth and Meath Education and Training Board
Deadline: 12 noon, Friday 13 September 2019
Louth and Meath ETB is now inviting applications for the position of Music Generation Development Officer, Meath.
Post Reference Number: C218
A Music Generation Development Officer will be appointed by Louth and Meath ETB and will be responsible for managing an extensive performance music education programme on behalf of the Meath Local Music Education Partnership.
Meath has recently been selected for participation in Music Generation – Ireland's National Music Education Programme, which is co-funded by U2, The Ireland Funds, the Department of Education and Skills and Local Music Education Partnerships.
Five year, fixed-term contract (€46,771 – €57,157)
Application form, job description and person specification and other details available from – www.etbjobs.ie
Closing date for receipt of completed application forms is: 12 noon, Friday 13th September 2019
Late and/or incomplete applications will not be accepted.
Based on the volume of applications received short-listing may apply. Short-listing will take place on the basis of the information provided in the application form. Depending on the qualifications and experience of applicants, short-listing thresholds may be significantly higher than the minimum standards set out.
Louth and Meath ETB is an equal opportunities employer.
For further information go to www.musicgeneration.ie/news/article/opportunity-music-generation-development-officer-meath-re-advertisement/
!!!! Teacher-Artist Partnership (TAP) Project – Scoil Náisiúnta Muire gan Smál
Teacher-Artist Partnership (TAP) is a unique Department of Education and Skills initiative for supporting and enhancing arts in education in primary schools. The CPD Summer Course and residency programme is now mainstreamed and consists of free DES approved (EPV days) Summer Courses operating in each of the 21 full-time Education Centres in Ireland. The initiative includes funded Artist in Residency opportunities in which participating teachers and artists work together in collaboration in the School during the following academic year.
For more information click here.
Tell us the story of your project – What was the impetus? What was it about? Who was involved? How did you begin?
This project was Phase 2 of the Arts in Education Initiative – Exploring Teacher/Artist Partnership as a Model of CPD for Supporting & Enhancing Arts Education. The initiative comprises three phases and is being conducted using Action-Research methodology and principles.
 Phase 1- Summer Course: 18-22 August 2014 (Training of Lead Teachers and Lead Artists)
Phase 2- Lead Teachers works in own school/classroom with Lead Artist- 20 hour Project
Phase 3- Summer Course 2015: Lead teacher & Lead Artist deliver summers courses regionally
It is a Department of Education and Skills initiative developed in response to the objectives outlined in the Charter. Vera McGrath (lead teacher) was nominated by Monaghan Education Centre and Claire Halpin (lead artist – visual artist) was nominated by the Irish Museum of Modern Art (IMMA).
How were the ideas developed and how did the young people, artist and teacher work together?
From the outset we wanted the project to be very open and to really explore the partnership of the artist and teacher in the classroom and allow the class group to inform the direction the project would take. We slowed down our working processes and took time to discuss our creative work as the project developed. Our opening theme was the idea of place – Where is your place? What does your place mean to you?
We began working in drawing – mapping our journeys to school and home, blind drawings and detailed maps, gathering textures from our surroundings our physical space, talking about natural and manmade spaces and surrounding sounds. We visited Parallel Visions: Sculpture and Installation from the IMMA Collection at the High Lanes Gallery, Drogheda. Vera led the tour using an enquiry based approach with the group – What do you see? What do you see that makes you say that? It allowed the group to really explore the work and discuss its physical qualities, how it was made as well as the themes and ideas in the artworks.
Following on from this in the classroom, we explored paper as a construction material. We punctured, twisted, rolled, pleated, bent, folded, shaped, cut, adhered, fringed, knotted, crushed, scrunched, pinned, threaded, stapled, stuck, tore, layered, decorated and plaited different papers to test out how strong durable, sturdy, weight bearing and appropriate different weights, graded and textures of paper were for the creations that the participants undertook.
Over the next few weeks the group developed on these techniques and planned artworks that would reflect the idea of place – where is your special place? As the plans developed we evaluated the ideas and themes in group critique sessions. We talked about where these art works would be placed in the real world – context and scale. We looked at other artist work discussing scale and space. All the time developing the groups language skills in discussing art and critical thinking and critical reflection.
In keeping the emphasis on the openness of the project we allowed the group to select whatever materials they would like to work with and developed their techniques and creative processes and potential in working with these materials to create their artworks. We worked on these pieces over a number of weeks as the group explored and learned the techniques of the materials they had selected to work with and refined and developed their individual artworks.
What was your personal experience of the project in terms of successes and challenges?
Claire Halpin, Artist 
The group's creativity, imagination and hard work was overwhelming. The individuality of their work and their articulation of their work and their individual creative processes was incredible. They were really focused and concentrated on the project, had a strong sense of ownership of the project and developed confidence in their skills and creativity. It was a new experience for them to work in this way, and they were challenged by this approach as they are more accustomed to direct instructions and making specific artworks.
I feel the trust of myself and Vera in the partnership, in each other and in the group allowed for these outcomes to emerge. We worked very well together – each taking a lead where appropriate and relevant and within this learned a lot about each other's working processes and language around discussing art and our own individual approaches and practice. The project entailed a lot of planning on a weekly basis and also each week we would spend time evaluating and working out where to go next with the group, analysing their responses to each session.
The group was unique in that they were a newly-formed group for the project, comprising 13 children from learning support, encompassing a spectrum of students with different needs including the academically gifted, dyslexic/ dyspraxic students and students in the autistic spectrum. Being a small group, we were afforded the luxury of allowing the children to work in their chosen medium. This was challenging for us time-wise as we had to teach each child the practical skills and techniques of working in their chosen material. It also allowed us as teacher and artist to take chances with the project and try out this approach and to develop a trust in each other and the group. In so doing, the group could see that we did not always know the answers but would figure it out, which is inherent to creativity and being an artist. This I feel allowed the children to see themselves as artists creating individual unique artworks that were personal to them. A key part of this was the regular group discussions evaluating their own work and the creative processes of the project.
I learnt a huge amount about slowing down – really taking time to allow the artworks to develop and discussing these developments throughout. The enquiry-based approach to the exhibition visit for me was a learning curve around discussing artworks and how this approach creates really strong memories of the artworks and the experience of looking at art for the participants. These aspects are something that I will bring with me from the fantastic experience of working in this partnership project. The commitment to the project and the partnership from the teacher and the class group was critical to the process and made it a really strong project, allowing for the positive creative outcomes and learning experience.
Vera McGarth, Teacher 
I concur with all the observations made by Claire above. I was very excited and amazed by the ability of these young students to articulate their ideas and how creative they were in their approach to realising them through visual art materials. The whole experience created a wonderful bond among us all, myself Claire and the children, all of whom I now see in a different light. Thus the partnership blossomed from being a teacher-artist partnership to being a children/ artist/ teacher venture during which roles were interchanged regularly. Often Claire and I had to be so open to learning from and about the children with whom we were working. The process was wonderfully experimental, and Claire and I allowed the direction of the project to emerge rather than plan it rigidly from start to finish. We de-emphasised the finished product and kept our focus entirely on process, regularly gathering the children around to reflect on how they were progressing and what thoughts, insights and understandings were emerging.
Like Claire, I found the greatest challenge for me was time management, particularly as we gave full reign to the students in the selection of materials for their final piece. I also learned to slow down- to give the process the time it needs and deserves and to recognise the value of doing this, something which often escapes teachers pressurised by meeting targets, expectations and completing curricula and governed by timetables. Personally I learned so much from Claire who brought the outside world into our classroom and taught me to think beyond and above the classroom, the school and the curriculum.
The link to our website posted below is critical to get a flavour of the nature of this project. The learning outcomesof the work done by Claire and myself in partnership will now be translated into two summer courses to be run in Summer 2015for primary teachers and artists from different disciplines in two venues in the North-East and North-Dublin regions. Claire and I will lead these courses and bring the rich learning and insights we have gained to help nurture new partnerships between artists and teachers so that many more of the children in our primary schools can enjoy and benefit from the privilege of working in such a holistic, creative, intellectual, self-motivated and engaging manner. Moreover we hope that primary teachers will come to understand, as we now do the value of working in this way and that artists in our communities will see the wonderful insights, knowledge and skills they have to offer the world of education and how much they have to gain in becoming involved.
!!!! Opportunity: Music Generation Louth Tutors
Music Generation
Closing Date: 4pm, Friday 13 October 2017
Louth and Meath Education and Training Board on behalf of the Music Generation Louth are inviting applications the following positions that may become available in the next academic year 2017/18:
Music Generation Louth Tutors
with specialism in the following areas:
Popular Music (drums; guitar; keyboard; vocals)
 Choral
Lower Strings
Due to the volume of applications, only shortlisted candidates will receive further contact.
Please note that no CVs – only official application forms – will be accepted. Application forms and further information can be found online at: http://bit.ly/2g4vBCY
LMETB is an equal opportunities employer.
Essential requirements:
Candidates must demonstrate a strong passion for teaching and learning, and for nurturing the musical development of children and young people of all ages and abilities. Qualification in Music is essential.
Closing date for receipt of completed application forms:
4pm, Friday 13 October 2017
For more information go to www.musicgenerationlouth.ie or www.vecjobs.ie/index.cfm/section/job_one/vacancy_key/4106
!!!! Blog 3: Kieran Gallagher, Post-Primary Art Teacher
How I balance work as an Artist-Teacher:
To be an art teacher in any given day or class period can be exhausting. Having over 20 students per class period, all of whom you know well; you know what step of their painting, print or sculpture that they are working on, and you have to think ahead of the possible next step, problems or solutions that might arise. We do this instinctively, without batting an eyelid. By the end of the day you can be drained, going home, cooking dinner, going for a run, how would I have time for making my own artwork?
I have to be honest, most days I don't. But I make time weekly or monthly. I managed to find time to look at Facebook, watch Netflix, so why not for making art? In 2012 I decided to enroll in the Masters of Art in art and design education. I had been teaching for 5 years and only exhibited once since college. This masters was a distant learning course, which was stretched out over two years. The reason that I mention this course is because it is what reconnected me with my own art practice, and gave me the confidence that I needed to get back to making art work again, that I was happy with.
Luckily enough I have a studio space in the city centre, in Ormond studios. (Add us on FB or look at our blog ormondstudios.wordpress.com) Having that dedicated space makes all the difference. Being able to leave your work out and come back to it, that's how I am able to work. I used to work in a spare room, but I found I could never leave work out or finish anything.  Now I find it easier to have a deadline to work towards. In Ormond studios we have member's shows twice a year, this keeps me motivated.
Having a studio in the city center also allows me to frequently visit galleries and artists talks. These visits along with my art practice inform my teaching on a regular basis; if I am researching artists, visiting exhibition openings or exploring a new theme, I bring it into my classroom. It's really important to keep up to date with the art world and bringing it into my student's keeps them informed, but it also keeps my classroom fresh and my teaching schemes constantly change.
My art practice has shifted from printmaking to drawing, painting, mixed media and more recently installation in the form of weaving. The shift in my art practice happened naturally, I hadn't the facilities to print outside of Art College. My current installation is a mammoth project; I had hundreds of old photographs, which I took for a project called "When we were giants". Lots of the photographs were blurred or not worth using, so they stayed in a box for three years. I recently revisited them and decided that I wanted to give them a purpose, or use. They forest where I took the photographs was a place where I used to play and build forts as a child. Having experience with layers and weaving previously, I began to weave the photographs together based on colour flows rather than the actual image. My aim is to create a large-scale fort or tent.
My only advice for those who are looking to get back into their art practice, just start something, set aside time. I didn't think I would have time for a masters, but I made the time, I didn't think I would have time to continue making art after my masters, three years later I am still working.  We never have time, but you are reading this so, put your phone down, get off Facebook, stop reading this and go create
!!!! Blog 3 – Kotryna Knystautaite assisted by Hannah Murphy and Aoife Craddock, Student Select Exhibition
The Day Has Arrived!
The countdown had stopped. The day had finally arrived. It was the day of the opening.
Many months of decision making, days spent in the gallery and countless meetings have all culminated in our exhibition and we were finally opening it up to the public. We invited everyone we knew- family, friends and teachers, but we also had other important guests coming to see the exhibition- the Minister for Arts, Heritage, Regional, Rural and Gaeltacht Affairs, TD; Heather Humphreys, Sir Ciaran Devane; CE of the British Arts Council and two of the exhibiting artists; Mariele Neudecker and Graham Crowley, the pressure was on!
On the afternoon of the opening day, we had the opportunity to meet Marielle Neudecker and Graham Crowley. They told us about their lives and inspirations. It was really fascinating to hear the artist themselves reveal their thoughts, the ideas behind their creations and to hear their opinions on how their art complemented the other artworks surrounding them. It was an amazing experience, as soon we would have to be the ones giving tours of all the art that was now in the gallery.
As the opening night grew closer there was a hint of nervousness in the air between us. In a few moments we will have to give one of, if not the most, important tour of the exhibition to our special guests. In our heads we recited all of the facts, dates and names we learnt over the past few months about the art surrounding us, remembering the connections that we mapped out and why we hung certain works in certain places. Our family, friends and teachers started to filter in through the doors. The time had come!
We greeted and shook hands with Heather Humphreys and Sir Ciaran Devane as they walked into the gallery. In pairs we led them and the other guests through the gallery telling them about the art along the way. After the tour everybody who came gathered downstairs at the altar. Niamh McDonnell (St. Oliver's) and Cáit McArdle (Our Lady's College Greenhills) gave amazing speeches about the Student Select, how we came about to do this and the work we did up to the opening. They were followed with speeches from some of the distinguished guests and Aoife Ruane, the director of the gallery.
We were excited and proud to finally be able to fully share the exhibition with the public. We were building up to this point all the time and hearing the thoughts, praise and observations of our families, our teachers, general visitors and special guests on 'In Sense Of Place' definitely gave us feelings of affirmation and accomplishment. After the opening we celebrated with dinner and it was nice to socialise with all the people we worked with for so long.
During the weeks the exhibition was open we gave tours to secondary and primary school students. On most of these tours we spent time listening to the opinions of the students and discussing them, rather than just telling them the exact information. Art should always be based on your own interpretation. At the end of the tours the primary school students drew out their favourite art piece. It was great to see their enthusiasm, they were less inhibited than the older students.
We also held a workshop based on the works in our exhibition. It was set up for kids between the ages of 4 and 12. We were thrilled that 45 kids came and they brought recycled materials in primary and secondary colours. Together we assembled shapes out of the materials they brought, inspired by Tony Cragg's 'Canoe'. We also discussed the colour wheel and complementary colours, we put the theory to practice with pastels. Another work we took inspiration from is 'Mean-mean' and we made collages.
This was a once in a lifetime experience, we learnt so much about contemporary art and how a gallery works and we so happy to be involved in such a great project.
Written by Kotryna Knystautaite with assistance from Hannah Murphy and Aoife Craddock
!!!! Blog 2: Kieran Gallagher, Post-Primary Art Teacher
Since my last post, my school took part in the 'State of the Art' campaign, which was organised by the (ATAI) Art teachers Association of Ireland. Schools across Ireland got involved in the action day, to draw attention to the outdated senior cycle art syllabus. Three of the local Drogheda schools got together, over 100 students met in the centre of town and marched, with black balloons and placards, accidentally scaring a few elderly shoppers along the way, to the local gallery, the Highlanes Gallery. Students, read out myths and facts about the current leaving certificate, and asked for change. It looks like, art students and teachers across the country had been heard, as the Senior Cycle Art syllabus has been recalled to the NCCA and work will begin on developing a new syllabus this year.
Again in the Highlanes Gallery, an exhibition which I was working with my students and another local school, is due to close on Saturday the 28th of January. You can read all about the project on the Arts in Education Portal website, as two of our students have wrote some blog posts discussing their project and journey. 'In Sense of Place' was a huge success. The exhibition was opened by Minister for Arts, Heritage, Regional, Rural and Gaeltacht Affairs, Heather Humphrey's. The exhibition got great press coverage; students appeared on the local radio station, LMFM, rte news and in the Irish Times. At times this project was very difficult to balance class work and commitment to this once off project, but the enthusiasm from the gallery's Director, Aoife Ruane made it seem easy. Feedback from my fellow teachers, and students who visited the exhibition has been very positive.
Inside of my class room I am currently trying to get my head around the changes to the senior cycle syllabus, the '10 week project'. The still life section is great, easy to figure out; the important introduction of a brain storm including practising object composition and experimentation with materials is a welcome change. It allows students to really think about why there are selecting their objects, the composition and the materials.  However I am finding the craft section more difficult to understand in particular the Poster. With practise I'm hoping to resolve this issue. What alarms me is the lack of clarity in terms of examination, how will the work book be examined, what percentage of marks is allocated to the workbook versus the finished piece. We need the clarification soon, as our current fifth years are due to sit this exam in January next, leaving very little time to practise a 10 week project.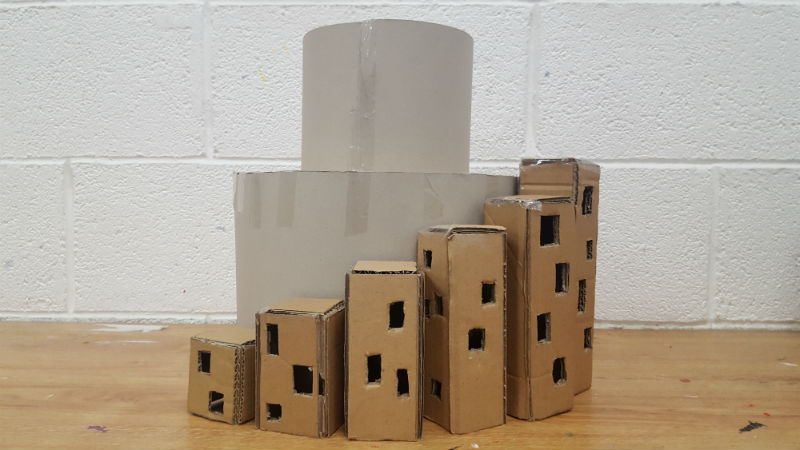 It is also a busy time of year for exam classes 'mock exams' are due to take place the week before midterm. Due to the nature of the current leaving certificate, we teachers have to try and timetable and correct four exams (3 practical and one written), between now and after midterm. our sixth year students are all working on their still-life exam this week, using 2.5 hours of their class time to create a finished still life, an exam which I won't miss when the revised curriculum come into effect. It can be a challenge to cover all aspects for the mocks, but it is essential to show students how they are progressing and what needs to be improved on for May.
I am lucky to have a very energetic class of 24 second year girls, no boy to be seen in the class. They are very enthusiastic and love to work on large scale projects. We are currently building floating cities, which we will suspend from the high ceiling rafters in my room. The cities will be constructed out of recycled cardboard, the theme is open however they must explain their choice of building shapes and state their influences.  To inspire them I introduce them to the contemporary female artist Julie Mehretu and the architectural wonders of Zaha Hadid. Their energy the loudness and lively enthusiasm is a nice contrast to the serious atmosphere in the above exam classes.
!!!! Blog 2 – Kotryna Knystautaite, Student Select Exhibition
The Arrival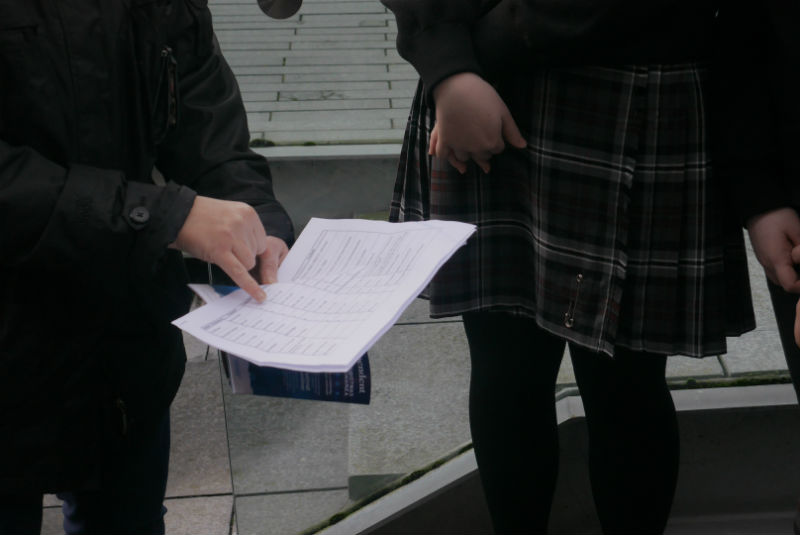 The excitement has become a constant buzzing feeling inside all of us. A lot has happened in the past two weeks, but it was when the delivery truck came, the work we had put into this exhibition became a reality.
The artwork came in precise and ingeniously engineered, sky blue crates. Seeing the magnificent shade of blue increased our impatience to open them up. We learned about the specially modified lorry that transports artwork; the temperature must be kept at a constant 19 degrees celsius, to accustom the artwork to the gallerie's climate. We also examined the padding on the inside walls of the truck and the cables used to hold the crates. We had to let the crates sit in the gallery for a few days, to allow the artwork to climatise. The excitement was heightened  when the crates were unscrewed and the lid opened. Inside we saw the artwork comfortably and securely packaged in between specially designed foam as to avoid damage from movement. When all the artwork was opened we now could start to consider where to place the work for our exhibition.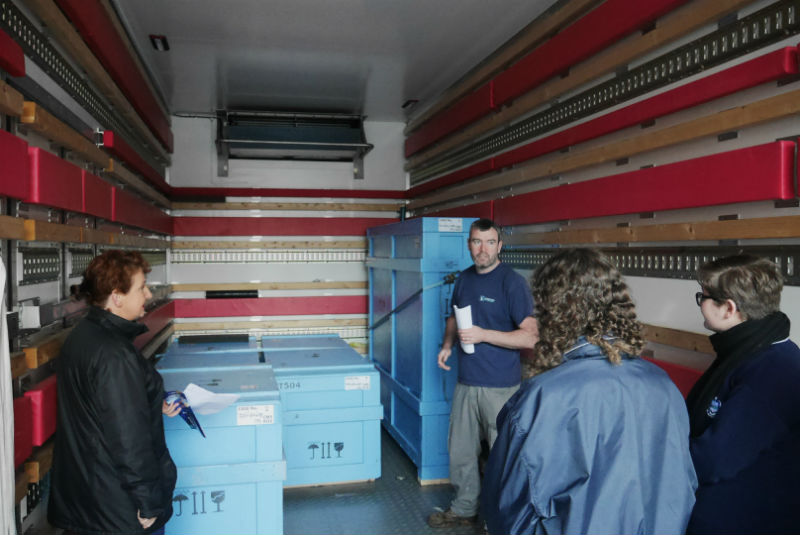 We had already researched themes that could link the artwork together, but seeing them before us sparked other ideas and thoughts. I think it is the unexpected contrast between seeing a photo of the art and standing before it. Some of the pieces shocked us by their size or their vibrant colour. There was a never ending list of factors which we had to consider when hanging our show, we were all so excited despite the amount of decision making as it was finally real, the work was all there in front of us. Now we had to figure out where to place the artwork; lighting, wall space, neighbouring art, the journey of the viewer… etc. Eventually, after  several days thinking and re-thinking, moving work around, having to make difficult choices came the conclusions and solutions. It wasn't easy as we had to leave some of our work out as it didn't seem to fit with any of the rest of the art work. This was a decision  that none of us thought we would have to make.
We linked and placed the artwork by themes, contrasting and complementing colours, ideas. Where and why we put the art, but also the art itself carried a message, provoking thoughts, ideas and questions for the viewers.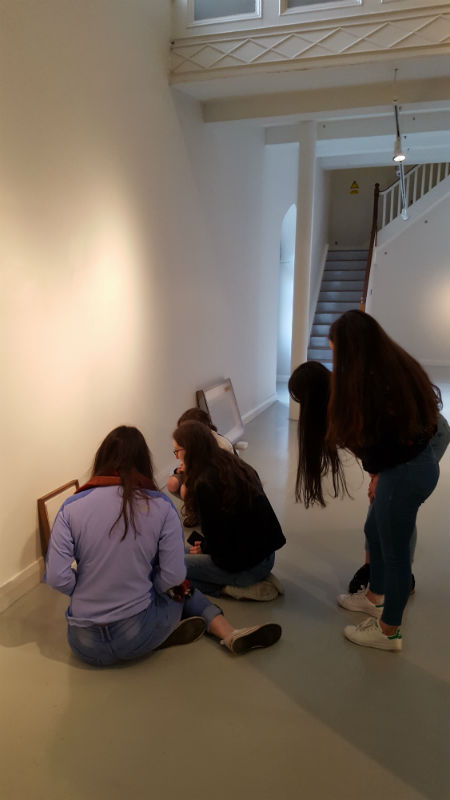 Some of the artwork that we selected for our exhibition required specific allocation. In particular the 'Canoe' by Tony Craig needed a large open space and therefore we made one of the easier decisions of placing it downstairs. There the wide white spacious gallery space accented the large colourful sculpture. Which lead to figuring out what would go with this sculpture. The Rachel MacLean 'The Lion and The Unicorn' needed a dark place with no noise pollution- luckily the Highlanes Gallery had just the right space the 'cement room' with the required conditions for this piece. Another artwork in our exhibition in which we had to put extra placement consideration into, was the Richard Long sculpture, 'Stone Line'- this piece also required a large space all to itself. The upstairs of the gallery was painted a royal blue, which we thought complimented the grey in the cornish stones. We were lucky enough to search the Drogheda Municipal art collection for art that would work well with this particular piece.
Our exhibition is a walk through a landscape, a journey of someone trying to find their place.
In the next blog we will tell you all about; the exhibition opening, the tours and workshop.
Written by Kotryna Knystautaite
All images courtesy of student Grainne Smith
!!!! Blog 1 – Kotryna Knystautaite & Niamh Woods, Student Select Exhibition
Student Blog – No. 1
Nearing the middle of our Transition Year, our art teachers, Kieran Gallagher (St. Oliver's) and Áine Curran (Our Lady's College), told us we would be collaborating in the curation of an art exhibition for the Highlanes Gallery, here in Drogheda. Before we started this project, we didn't know much about what a curator did; how much work and research was involved in creating an exhibition. We were always the artists, but never would we have thought of being curators. To our first few meetings at the Highlanes, we came in filled with curiosity, intrigue and excitement- and these have only intensified coming closer to the final countdown. At the first few meetings, we looked at the British Council's Collection for artwork that we liked. Then we discussed why we admired these pieces; we spoke of colours, mediums and what the imagery made us feel, think. We made lists of the art we desired and sent it out to the British Council. Unfortunately, some of the artwork was unavailable – but we kept looking until we found other works that we liked.
During the summer, we got the chance to go out to Dublin and visit a few art galleries. We collected our own research on things like how tours were given, lighting and labelling. The information we gathered would be applicable to our exhibition and it was helpful to see how these galleries were run. Dublin City Gallery The Hugh Lane was the first gallery we visited. We had a quick but informative tour as time was limited. Then our enthusiastic tour guide at The Little Museum of Dublin gave us a very interesting tour through Stephen's Green. The Kerlin Gallery was next on our list. We all agreed on how unique and beautiful the gallery space was. We then went from the Kerlin gallery to another contemporary gallery, The Douglas Hyde Gallery. After that, we visited the RHA, which was filled with compelling works. The National Gallery was displaying the drawings of Leonardo da Vinci at this time which we had the chance to see. Lastly we were invited to the opening of an exhibition in Farmleigh. The trip gave us invaluable experience for what is to come.
When a final list of the artwork was agreed on, we had to link all this artwork to a theme. Luckily, the works we've chosen did in fact have numerous themes combining them. We also had the privilege of choosing works from the Drogheda Municipal Art collection. Then we moved on to the important task of naming the exhibition. There was many ingenious suggestions made, but in the end "In Sense Of Place", we felt defined our whole perception of these artworks. We not only had to unite the artworks to a theme, but also the artists to each other. We did extensive background research on these artists, their work, their style and their art movements.
Now with less than two weeks until showtime; the work has doubled, but also our enthusiasm and passion.
Written by Kotryna Knystautaite & Niamh Woods
!!!! Blog 1: Kieran Gallagher, Post-Primary Art Teacher
In the first blog in this series from post-primary art teacher Kieran Gallagher we learn about the projects Kieran and his students have been collaborating on.
Art Teacher Blog Post No.1
Like all art teachers, the past two weeks have been a productive and busy period. School is well underway; my students and I are well settled into the first term. Apart from the typical art room duties that we have been creatively working on, we had an art trip to 'Sculpture In Context' with 56 of our fifth year students, open night, October assessments, exhibition 'In sense of place' meetings and organisation of the #startoftheart campaign.
The most interesting project, which I have been working on with a group of fifth year students, is the curation project in collaboration with the Highlanes Gallery, the British Council's Art Collection, and Our Lady's College, Drogheda. This project came about as a result of a number of other smaller projects and visits to the Highlanes Gallery. Their Director, Aoife Ruane, approached me last year with the idea of getting students to select and curate an exhibition to coincide with their 10th birthday celebrations. Since May of last year a group of students and myself met in the gallery to start planning the exhibition. The students have been extremely dedicated to the project, meeting three times over the summer holidays and every Thursday after school, for two hours, since the start of term. We are currently in the process of selecting the artwork for the VAI, postcards and posters, so keep an eye out. The exhibition opens on Friday the 25th of November. I will speak more about this project next time.
Thanks to the above project, I have linked with another school in town. They set up a WhatsApp group and we are in the process of organising some sort of event in town to mark the #stateoftheart campaign, which is looking at the Leaving Certificate art curriculum and asking the question, why has art has been forgotten? It seems crazy, especially in a time where such buzz words as creativity and innovation are being used so widely. The main aim of this campaign is to get the attention of the Department of Education, National Council for Curriculum and Assessment and the State Examination Commission to apply gentle pressure on them to implement a new, modern Leaving Cert curriculum; one that address the disconnect between the Leaving Certificate art curriculum and exam and the entry requirements into third level Art and Design colleges. In our school we are going to cover up all the artwork that is displayed throughout the school. For the larger town collaboration project? I will discuss it next time.