Blog 3 – Carmel Broderick, Virtually There Project, Primary School Teacher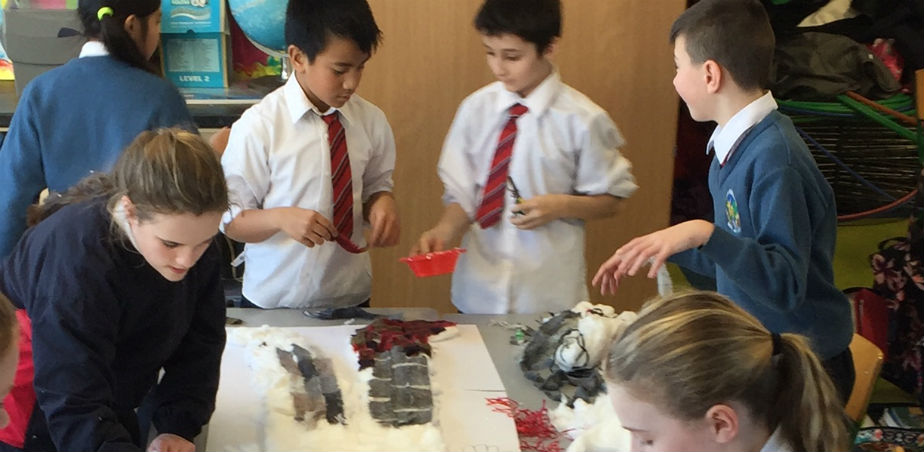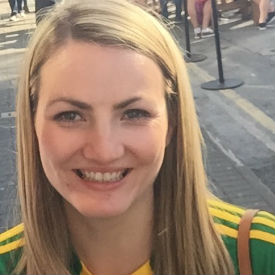 Carmel Broderick is a 5th Class teacher in Scoil Eoin NS, Balloonagh, Tralee, Co. Kerry. A large school with three streams of each year group and over six hundred pupils.  Carmel and her class a mixed group of boys and girls are currently participating in the Kids' Own Publishing Partnership, Virtually There Artist in Residence Project in collaboration with artist Lucy Hill.
This blog is part of a joint series with Virtually There, Artist in Residence Lucy Hill
Virtually There Project with Kids' Own Publishing Partnership
Virtually There began with a gathering of artists, teachers and organisers in the Portlaoise Education Centre.  In advance, we, the teachers and artists, had to prepare a short presentation about ourselves and in this I gave the reasons why I wanted my class to become involved. I recall wanting my class to feel free to be creative, imaginative and explore materials and their uses. In particular I wanted my class to move away from producing carbon copies of whatever art I showed them.  I also wanted to diversify my own teaching habits and step away from the routine of painting a picture for art class. Based on the presentation given by all involved, teachers were then paired with an artist. This was a key component in the success of the Virtually There project in my opinion. I found my pairing with Castlebar based artist Lucy Hill allowed for the freedom and stimulating art classes I had wished for in my initial presentation.
As with all new projects I wondered if the class would respond well and engage with the process.  Lucy had come up with great ideas, we had decided on the times and schedules, however the art was going to be quite different to what the children had been used to and they would be the designers, architects and inventors of what they were to make.  Making our first day of Virtually There a full day of art, with Lucy present in person for it all, helped the children to understand that  creating whatever felt natural to them was all a part of Virtually There.
Day one introduced the children to some famous artists who work with a variety of materials. This was followed by stations of exploration with 2D, 3D and colour work as an option. There were no restrictions or limitations on what station the children could go to or what materials they could use. They were giddy with excitement and were amazed that they were allowed to use whatever they wanted. It was fantastic to see children who normally need a lot of guidance working independently and because we were not focused on what the finished product would be, there was no apprehension about producing something that looked perfect.
Our first virtual art lesson with Lucy was live on Skype for the duration of the lesson. What I loved about our second session was the variety in processes in a short amount of time. This will inform many an art lesson for me in the future. The children did some time drawing using markers, they focused on how materials could be combined together to form something new, they photographed their ideas using light and background and finished up by combining and photographing their creations in the outdoor environment. Working outdoors was a highlight for the children with ideas being formed using unforeseen weather, surroundings and visual stimuli.
The children became very comfortable working in this art environment, where problem solving and engineering were a factor in leading their designs and they now had the confidence to try new materials and methods for themselves. Virtually There involved individual, paired, small group and large group work within almost every session. There was at least five different art ideas in each session and as I had hoped Lucy and I were facilitating the children's creativity rather than telling them what to do.
In a short space of time my class have been hugely inspired and have awakened their imaginations. I have a wealth of ideas to inform my future lessons in art and my goals for the class during Virtually There have been achieved. Lucy built a great relationship with the children and they looked forward to each week immensely. Although Lucy was on Skype during our art lessons the children never felt Lucy wasn't a part of their art class, following any moments of art creation the children would present and explain their work to Lucy via Skype. Bringing skills to a classroom virtually is an inspired decision which helps us as teachers to provide children with a varied and current education.
This blog is part of a joint series with Artist in Residence Lucy Hill as part of the Virtually There, Artist in Residence Project with Kids' Own Publishing Partnership. 
Artist in Residence, Lucy Hill Guest Blogs in the series; Blog 1 available here and Blog 2 available here.
---