Blog 3 – Jean Tormey, Curator Early Years & Families at Tate Modern & Tate Britain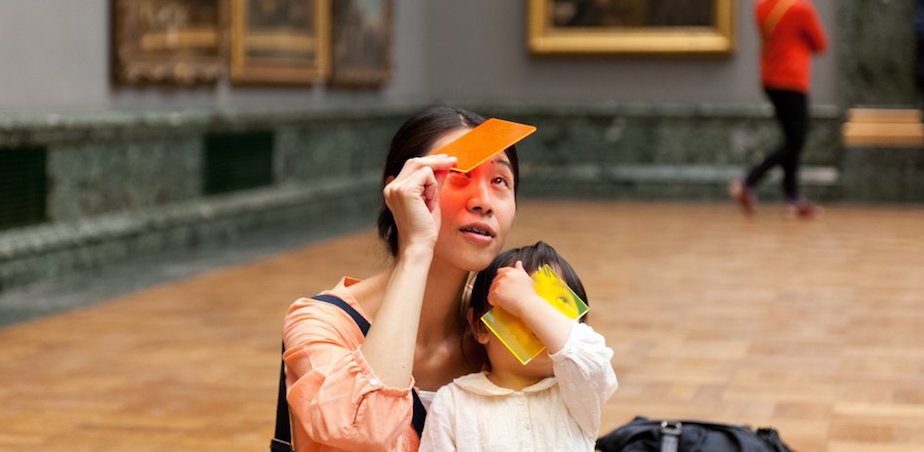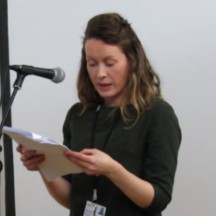 Jean Tormey is Curator of the Early Years and Families programme of resources, events and projects at Tate Modern and Tate Britain for under 5s, 8-14s and intergenerational audiences. She has worked on Families' programming in galleries since 2008. Her practice involves working with artists, audiences and colleagues at Tate to develop content and activity through which diverse children and families can be considered as equal and valued visitors to Tate. Jean has worked in gallery learning since 2005 as an intern in New York and as a learning curator in different galleries in Liverpool, Kilkenny and London.
Blog 3 – EYF programme
In this penultimate blog post I'd like to talk about what we currently programme for early years audiences at Tate Modern and Tate Britain, reflecting on the history of the programme and its current 'non-negotiables' of agency, curiosity, diversity and openness – which reflect the influence of the Reggio Emilia philosophy.[1]
By designing an open programme with artists, we aim to encourage the agency of a diverse group of children and carers to use their curiosity to explore the social space of the gallery together – inclusive of art and architecture – to co-construct meaning relevant to their lives.
Children of an early years' age come to Tate with parents or guardians if they are in a family unit or early years' practitioners if they are with their nursery, and our programme needs to speak to these adults as much as to the children. We are keen to acknowledge the expertise and inherent knowledge these adults hold in relation to the children in their care, and for our resources and events to draw this out and build on it. We offer a range of self-led resources that can be used independently for people to use in their own time and in their own way. Through their openness, our self-led resources aim to evoke the unique interests, abilities and motivations of visitors under 5.
An example of one of these resources at Tate Britain is 'Swatch'.[2] Swatch takes its name from a colour swatch and is a palm-sized collection of cardboard pieces with images of details of the gallery (one of which has a raised texture, another a hole through which to look), a mirror piece and an orange-coloured perspex piece. Developed by artist Abigail Hunt [3] with the Early Years and Families' team over 5 years ago, it has a long history with the programme.
Its language-free, sensory and tactile nature means it's accessible to children with special education needs, and it has been used succesfully as part of projects for children with speech and language development needs as a communication tool in the gallery.[4] When facilitating the resource, we try and offer it to the child rather than the adult so that they can choose the images or materials that excite them to act as a catalyst for their collective experience of the gallery.
For many families a resource is not enough. An event, where parents/ carers know that other families will be present and more guidance will be offered, is far preferable. Our artist-led and staff-led events are aimed at either parents/ carers or early years' practitioners and aim to support people to have confidence in using their own expertise and knowledge of the early year's children in their care to support a very individual, child-led experience.
In the last year a new monthly event was launched by the Early Years and Families team at Tate Britain entitled Under 5s Explore the Gallery.[5] Taking the learning from the aforementioned Big and Small programme as well as borrowing a format similar to our 8-14s Studio programme at Tate Modern[6], this relatively new strand works with a different artist every 3 months and explores their practice in the galleries with families through different choices of artworks or spaces, materials and processes. This strand considers the environment of the gallery as educator, capitalises on the social experience of the gallery for families, and ensures early years audiences are visible and evident to other audiences.[7]
Another strand worth mentioning is our seasonal Early Exchange event for early years' practitioners.[8] Building on previous experiences trying to work with partners in a reciprocal, equitable way through programmes like Big and Small and the Early Years Open Studio[9], this social event invites practitioners to come together, view an exhibition with early years audiences in mind, and engage in a discussion about the benefits and challenges of working with early years in the gallery. As well as being an opportunity for practitioners to find out what we do, it's a great way for our team to find out about the challenges facing this audience and remain relevant to the sector. We invite these practitioners to return with groups of under 5s and lead their own visit of the galleries based on our advice and the learning from this event.
My next blog will consider the artists' practicies being explored through our early years programme.
[1]  Up to date listings of what's on for families at Tate can be found here –
http://www.tate.org.uk/visit/tate-modern/kids-and-families/tips-for-families
http://www.tate.org.uk/context-comment/articles/10-visiting-tips-tate-britain
[2]  Swatch is listed on the Tate website here after our Title resource which is a self-led paper-based resource aimed at visitors of all ages –
http://www.tate.org.uk/visit/tate-britain/pick-up-activities-2016
[3]  Abigail Hunt is an artist who we work with again and again on our early years programme and who has been pivotal in shaping what it is today. More information about her work can be found here –
http://www.abigailhunt.co.uk/a.statement
[4]  A major example of this is when it was used as part of projects for the Big Lottery funded Big and Small programme of long-term projects, veents and resources. More information and a film explaining the aims and different facets of this programme can be viewed here – http://www.tate.org.uk/about/projects/big-and-small.
[5]  More information about this event can be found here – http://www.tate.org.uk/whats-on/tate-britain/workshop/under-fives-explore-gallery
[6]  More information about the 8-14s programme can be found here – http://www.tate.org.uk/whats-on/tate-modern/workshop/8-14s-studio-performing-bodies.
[7]  Over the summer we worked with a PhD student who is looking into this area of practice in different arts organisations across the UK. http://www.tate.org.uk/research/research-centres/learning-research/in-progress/investigating-value-experiential-creative-play
[8]  More information about this event can be found here – http://www.tate.org.uk/whats-on/tate-britain-tate-modern/courses-and-workshops/early-exchange-professional-development.
[9]  More information about this London Development Authority funded programme can be found here – http://www.tate.org.uk/whats-on/tate-modern/courses-and-workshops/early-years-studio-programme-tate-modern
Published
4/9/2017
Artforms
School Level
Region
---