Blog 4 – Tom Dalton, Artist & Arts Worker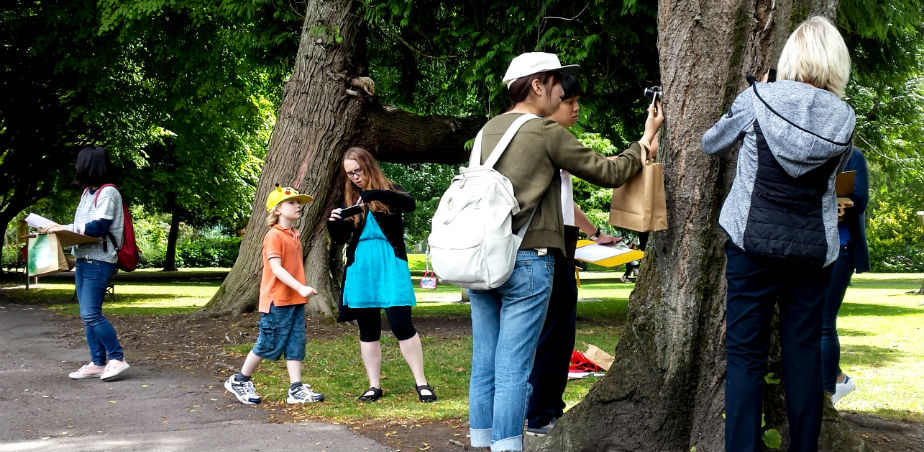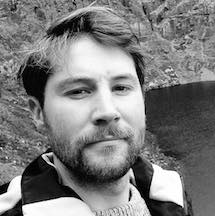 Tom Dalton is an artist and arts worker at Mayfield Arts Centre, Cork. The arts centre is a unique, dedicated arts space based in the heart of Mayfield in Cork city, at Newbury House Family Centre. Mayfield Arts provides opportunities for participants to connect, learn, reflect and act through creative processes. It is an example of best practice in the fields of community arts, social inclusion, non-formal and community education. Mayfield Arts develops, manages and delivers arts programmes, training and education in consultation with the local community and provides access to art activities and processes that facilitate personal and community development to people of all abilities.  A graduate of CIT Crawford College of Art and Design, Tom's role in the arts centre is to support the artistic and creative development of the Cúig studio artists through individual and group mentoring. Cúig artists are five artists in supported studios in Mayfield Arts Centre. The Cúig project, supported by POBAL, has been running at Mayfield Arts Centre since 2008, and is the only supported studio of its kind in the country. Tom also coordinates and facilitates outreach projects to school and community groups throughout the city.
A Walk In The Park: Art And Ecology
As the weather turns ice-cold on the run up to Christmas, I feel it is fitting to remember the warm days of Summer and reflect on a collaborative project between Mayfield Arts Centre and biologist and educator Darragh Murphy that took place for Summer In The Park 2017.
Summer In The Park is an programme of events, organised and supported by Cork City Council, that takes place annually at Fitzgerald's Park. The programme, which boasts music, art, dance, performance, food and film is developed following a public call out to animate the park over the summer months. We at Mayfield Arts were keen to get involved and began to think of ways of temporarily transporting the creative energy of the arts centre to the grounds of Fitzgerald's Park. I caught up with Darragh, Mayfield Arts arts worker Brían Crotty and Cúig artists Ailbhe Barrett and Angela Burchill to chat about their experiences of the project.
Surrounded by beautiful organic gardens, Mayfield Arts Centre has always fostered an active relationship with the natural environment. The many groups that pass through the space frequently explore the grounds for inspiration in the form of plants and leaves, looking for pattern, colour and small details often overlooked. The arts centre is also home to the Cúig artist in the studio project. Here artists are supported by two arts workers to create artworks that are wholly their own. The five artists are Bríd Heffernan, Stephen Murray, Ailbhe Barrett, Angela Burchill and John Noel Kennealy.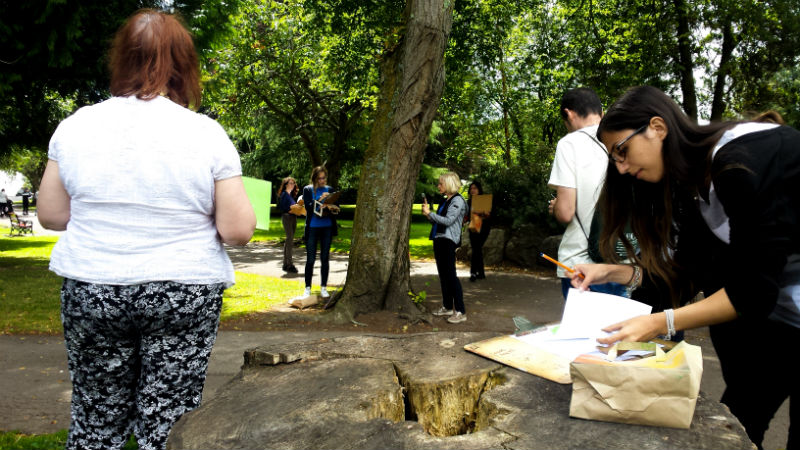 Although each of the five artists' practice is unique, nature is a frequent theme, with animals, insects, plants and flowers appearing as regular subject matter in the studio over the years. There is a natural inquisitiveness and curiosity that comes with being an artist and for Summer In The Park, Mayfield Arts were keen to explore ways of sharing this innate spirit of investigation in an inclusive way.
We at the centre were also eager to learn more about the park and its rich variety of natural diversity ourselves. We got in touch with biologist, environmental educator and photographer Darragh Murphy and invited him up to visit the Cuig artists' studios. Darragh designs and leads nature tours & workshops to people of all abilities, combining photography, ecology & history to illustrate the beauty & value of our local wildlife. Darragh and the artists hit it off and ideas for a collaboration formed quickly.
A Walk In The Park: Art and Ecology was a series of guided 'art walks' through the grounds of Fitzgerald's Park, co-facilitated by Darragh Murphy, Brían Crotty and artists from the Cuig studios. As Darragh describes, the idea for this project was a simple one; 'exploring nature through art – exploring art through nature'. Generously supported by Cork City Council, these art walks took place over two Fridays during summer 2017, with a series of hour-long tours taking place each day. The tours were free to join and were open to participants of all ages and abilities.
Equipped with sketchbooks and a range of art materials, groups of fifteen participants set off from the park Pavilion and were guided in discovering, observing and visually recording the park's diverse plant and wildlife through fun and accessible drawing and mark making.
Brían describes the day: 'We choose five different locations in the park and discussed the trees, patterns, wildlife and ecology and then responded using a different artistic method in each. We learned about the patterns of trees and took rubbings of the bark and the leaves. We also did things like blind drawing and observational drawing.' Artist, Angela Burchill, whose practice usually involves working from found imagery says she really 'enjoyed drawing the trees and leaves' in the outdoors.
There was a great diversity in age and background of participants on each of the walks which enriched the experience for everyone. Darragh reflects on the activity of the groups; 'Through the tours, we found that each participant had an individual starting place and pursued our idea on their own path. As the team biologist, I tried to give the biological basis for the kinds of shapes, patterns & textures we observed around us, & the artists helped to explore these structures using chosen artistic techniques.' Darragh also sourced attachable smartphone lenses for the tours, allowing participants to use their phone cameras to zoom right into places of interest and capture these scenes through photography. Brían remembers how participants began to investigate 'the other little worlds that exist in the little cracks and corners of the park'.
The walks were as much a social event as an educational one. Cúig artist Ailbhe Barrett recalls how 'people really enjoyed it, they were all chatting and drawing'. For Darragh, witnessing the wide range in output from participants on the walks was where the success of this project lay; 'Through considering the same information & landscape before us, the innate & personal experience of each participant was revealed on the page as they sketched.'
Underpinning the art walks was also a belief that if people increase their direct experiences of being out and about in nature, they may show more interest in it's survival. 'As a biologist/environmental educator, it is very important for me that people engage with their natural environments under their own steam. My role is only to help highlight why the world may be interesting & worth paying attention to. I cannot tell anyone to conserve the birds or the rainforests, I can only express why I think they're interesting. Engagement comes from within the individual.'
Darragh also commented on the inherent links between his work as an environmental educator and that of the Cúig artists; 'We all see the world's beauty & make attempts to highlight this beauty. We all drew the same trees but what was drawn was the personal connection to the trees."
To find out more about Darragh's work please visit www.dmurphynature.com.
To find out more about the Cuig artists and Mayfield Arts please visit www.mayfieldarts.ie Mayfield Arts wish to thank Cork City Council for their generous support of this project.
---