Blog 1 – Third Class Pupils, Scoil Mhichil Naofa, Co. Kildare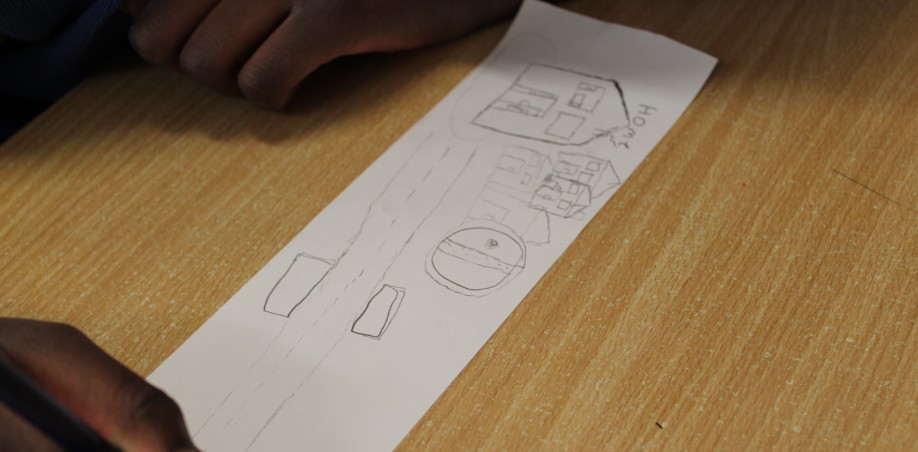 The following blog posts have been written by 14 third class students from Scoil Mhichil Naofa, Athy, Co. Kildare. They have been partaking in a Teacher–Artist Partnership (TAP) project since March 2021 with the help of artist Tunde Toth and class teacher Ms. Hourigan. The theme of their project is 'Place' with a focus on nature and the local environment. The children are very excited to share their perspective with you on how they have been progressing. Thank you all for reading and we hope you enjoy!
The project is one of the recipients of the 2021 Portal Documentation Award read the announcement here.
The beginning…
Our project started in March during lockdown. We met our artist Tunde for the first time online. We did two sessions on video call on Google Classroom. Tunde showed us examples of her work and we came up with some ideas of what we might like to do in our project.
We completed our first art task at home. We drew a map of a place when we were at home. Some children drew real maps and some drew imaginary maps. Some ideas include : A map of school, A fairytale map, Memory map of a holiday in Czech, Inside a house, Japan, France, A layout of a ship.


When we got back to school we continued our project in person. We looked at real maps of counties, towns, places, countries. We looked at different symbols on the maps and tried to figure out what they represented. We listed all of our findings on the board.
We drew a map showing our journeys from home to school. We taped a long strip of white paper to our desk. The paper was cash register roll normally used for receipts. We had to draw everything we saw on our way to school. We choose three colours and we only coloured the things on the map which contained those colours. We recorded the sounds that we heard on our journey to school on our map by drawing symbols. We did the same thing for our other senses, what we smelled, touched and tasted.
We enjoyed using lots and lots of long receipt paper. We loved adding our senses to the map as this was something we had not done before.  We found this tricky at the beginning because we had to try and remember what we experienced each time but we figured it out.
Post By Noelle, Megan and Linards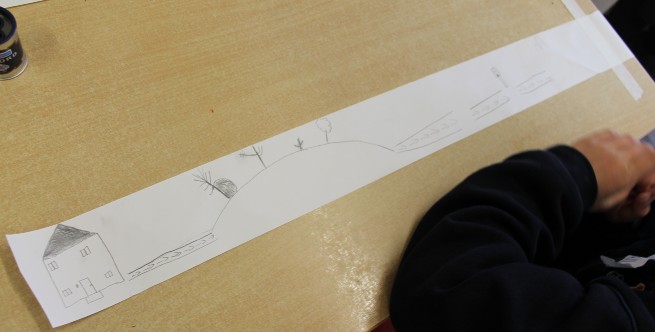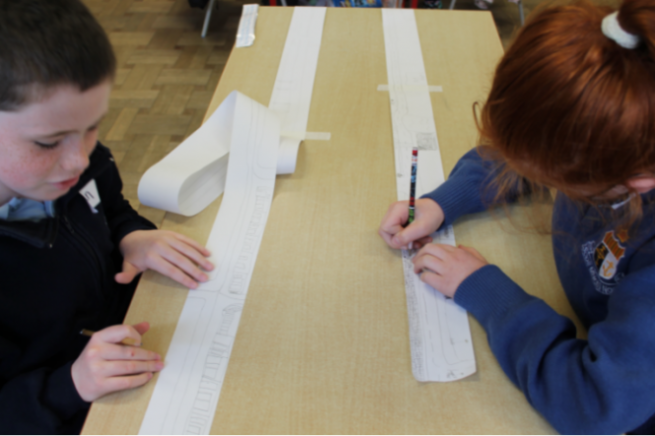 Published
30/6/2021
School Level
---