Blog 3 – Third Class Pupils, Scoil Mhichil Naofa, Co. Kildare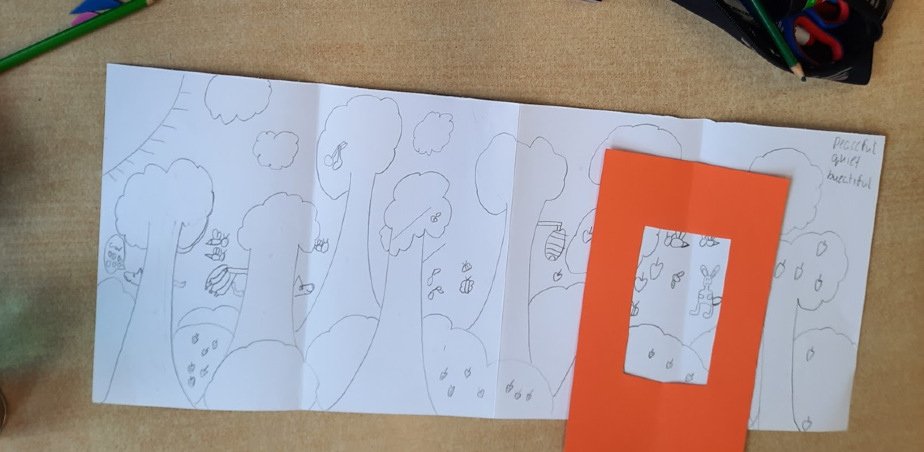 The following blog posts have been written by 14 third class students from Scoil Mhichil Naofa, Athy, Co. Kildare. They have been partaking in a Teacher–Artist Partnership (TAP) project since March 2021 with the help of artist Tunde Toth and class teacher Ms. Hourigan. The theme of their project is 'Place' with a focus on nature and the local environment. The children are very excited to share their perspective with you on how they have been progressing. Thank you all for reading and we hope you enjoy!
The project is one of the recipients of the 2021 Portal Documentation Award read the announcement here.
Making Plates
We looked at different types of leaves common to Ireland on the board. We chose a leaf we liked and drew it on a card. We had to make sure that they were bigger than our hand.
We stuck foam and corrugated cardboard onto our leaf. We had to make sure that none of the pieces were touching as we wanted mosaic design. This leaf would become a plate for printing. We used a screw to dot texture onto our leaves by leaving marks in the foam.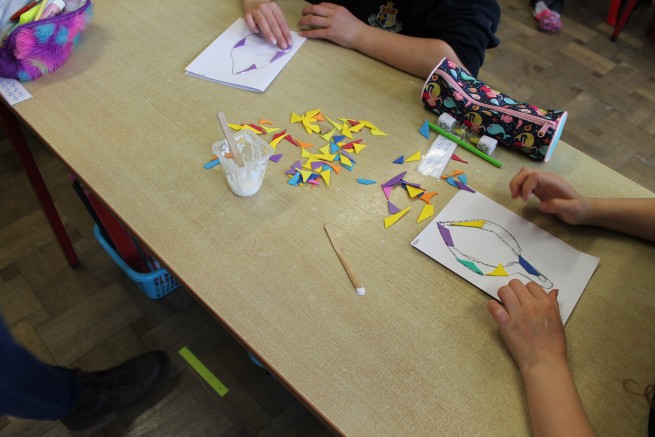 We used view finders to find an interesting view in our nature booklets. We drew what we seen in our view finder on to a piece of card and we enlarged it. After this Tunde called us up one by one to choose materials to stick onto our picture. Some of the materials used were wool, foam, string, piece of a woolly jumper, thread, netted paper, hessian, lace, matchsticks, grease proof paper and many other things. Next we used PVA glue to stick our materials to the plate.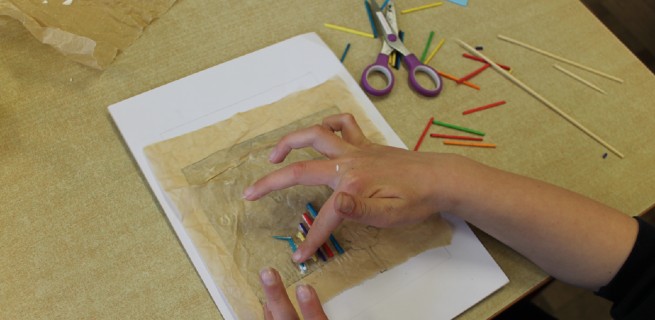 Printing 
Our first printing session happened during our first day filming for the Arts in Education Portal as a part of the documentation award. We were very nervous at first but we soon grew confidence and we can't wait to see ourselves on the video! Here's what we did!
We used acetate, a roller, red yellow and blue block print ink to make orange on our acetate. We rolled the ink onto the leaf. We got another sheet of paper and placed it on the leaf plate. We gently rubbed the back of the paper in a circular motion to make sure the print transferred. We carefully removed the page and then ta-dah! Like magic, the print has appeared on the page.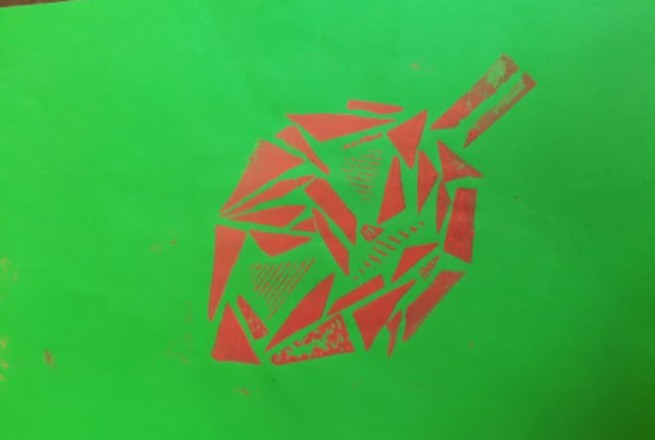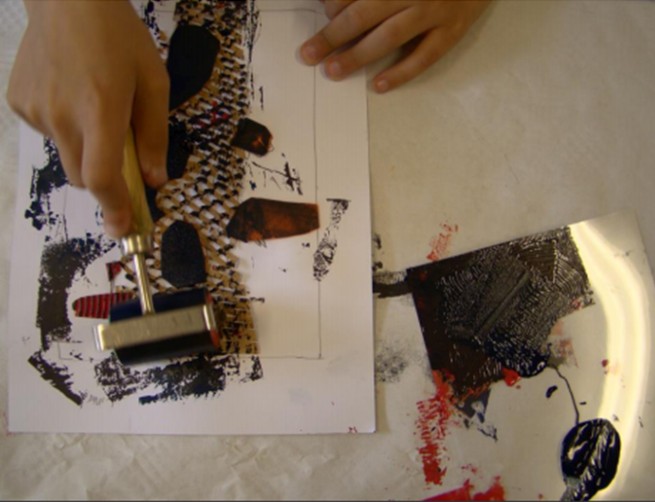 We repeated this three times on white, green, and blue paper. We repeated this process using yellow and blue ink on our second plate (nature plate) to make two more prints. We hung our prints on a clothes line in the classroom to draw. It took our prints around a week to dry and our plates are still inky a month later.
We drew a leaf onto green or yellow paper and cut it out. We folded the leaf into quarters and we cut out three triangles on each edge. We opened our leaf to find a diamond pattern inside. We used blu tack to stick our leaves onto a massive, long piece of card. We used pouches made from hessian, cloth and thread, bubble wrap and Styrofoam sponges to create prints on the card using block ink.
Everyone in the class worked on this piece together. This was our teacher's favourite piece that we made because everyone worked together. We left our piece to dry over the weekend, and when it was dry we removed it the leaves and we were amazed to discover the blank spaces they had left behind.
We really enjoyed using the printing ink and rollers. We liked the way we were able to use plates that we had made ourselves in previous sessions. It was great to have lots of artwork made from the same plate. We enjoyed removing the page from the plate as it was very satisfying to watch the ink appearing on the page.
By Seán, Pippa, Tyra and Ryan
---