Refine by Region
Refine by Art Form
Refine by School Level
Briefly tell us the story of your project – What was it about? Who was involved? How did it get started?
The story began with a play, After Dark, by Olivier Award-winning English playwright, Mike Kenny. It is about fear of the dark and plays to First and Second Class pupils in primary schools. Graffiti first produced the play in of Spring 2015 accompanied by a short workshop. The company has a long track record of developing workshops using educational drama methods linked to the curriculum and to supporting teacher and pupil practice. The second time we produced the play we decided to build a substantial workshop around the play that could also function as a stand-alone workshop related to science.
We thought it was interesting to relate Drama to Science. Doctor Darkness could help investigate things related to nighttime. It began with nocturnal animals. This is part of the 'Living Things' Strand of the curriculum for First and Second Class and the Strand Unit is 'Plants and Animals'. It also allowed us to use the Curriculum Skills of Predicting, Hypothesising and Investigating – all key skills in Science.
For some reason we immediately came up with something which made us smile! Doctor Darkness immediately offered roles for the teacher (Chief Scientist), pupils (Investigators and Specialist Expert Groups of Scientists) and Doctor Darkness, who desperately needs their help to restore the world's faith in the value of darkness!
We trialed Doctor Darkness with the help of six schools with whom we were about to begin another research project that involves teachers and pupils in active collaboration and research. We felt that this curriculum rich workshop helped establish confidence in the use of drama methods and developed good and sharing relationships with teachers and pupils. From our point of view, by building on the teacher's own practice and by ensuring support in the teacher's use of very light role, we are building confidence in the use of role in the classroom.
How were the ideas developed and how did the young people, artist and teacher work together?
Educational Drama creates a world in a classroom where the exploration of a fictional hypothesis allows everyone to have a voice, to share authority and to explore ideas.
Each of the four groups of children in their classroom were experts in their fields, the teacher the instigator and monitor of the investigations and consultant authority on the dark, and the facilitator had a problem which could only be answered with the help of the experts.
Each class has its own atmosphere and dynamic and because there are no absolute answers authority is given to the children to decide and to follow up. All participants are explorers together.
What aspects of the project made you smile? What aspects of the project made you feel challenged?
There was a lot to smile about for all participants and it was one of those special projects where there were few challenges. That's not to be complacent – a lot of hard work and stepping out of comfort zones happened.
There really is very little training for teachers in the use of drama as a teaching method and teachers frequently fear that they will make fools of themselves, lose control, not have the confidence and so forth. It takes courage to take the first step into role.
By having a support adult in role and by taking on a role very similar to that of a teacher the pressure is eased and the teacher is more free to try things out. With this challenge came great positivity and a willingness to engage which made this a really enjoyable experience for all.
What insights from the project are worth sharing?
Creating an atmosphere of shared responsibility, mutual respect and mutual support, trust and daring is at the center of collaborative exploration and invention.
Ways in which this came about include:-
1. Being open to discussion – e.g., willing to be flexible with the workshop
2. Setting clear learning objectives and learning outcomes
3. Being passionate about the use of drama to support learning development
4. By building on the teacher's own practice
5. By using clear curriculum links
6. By working in partnership with teachers, children and schools
7. By observing and sharing best practice
8. By giving the teacher and the children an active and exploratory role in the session, eliciting prior knowledge and extending learning/teaching
Has anything changed as a result of the project?
The relationship with teachers, pupils and management has been enhanced and that has given us and, we hope, them a firm ground to move into our collaborative research project, Raising My Voice, which we mentioned earlier.  Raising My Voice is based on the Young People's Voices in Decision Making document from the Department of Children and Youth Affairs.
Further Feedback from the Teachers.
Throughout the workshop, children took on new roles, explored their creativity and enjoyed the freedom to decide things for themselves. The inclusive and safe atmosphere that was created enabled quieter children to freely express themselves and contribute their own solutions to the problems that emerged.
The children benefited from engaging with a variety of drama methods at the hands of experts. The children gained confidence and competence from seeing a teacher being creative and 'becoming' a different character – just like themselves.
The classroom set-up is usually children and teacher. By crashing through the barrier, whereby children and teacher engage with a third entity (in this instance Graffiti Theatre Company), the usual boundaries were crossed creating a unique and powerful opportunity for growth and development. The teacher became one of the children in a sense, and this had a tangible effect on the quieter, less outgoing children who really relaxed and engaged.
Spotlight
---
Artist(s):
Síle Ní Bhroin
I'm currently working part-time with Graffiti Theatre Company as Projects Advisor and Director of Graffiti as Gaeilge. In the past I've worked as a director, facilitator and teacher of Drama and Theatre at various levels and locations. I particularly enjoy classroom drama, work which actively engages the classroom teacher as a collaborator: for example, the Kindertransport workshop project (on-going with Graffiti Theatre Company) which  invites the teacher to be in role in a complex, in-depth workshop. The collaborative nature of this kind of work is immensely valuable as it multiplies the learning opportunities and modes of engagement for everyone - it's also very enjoyable!
Karen Kelleher
I'm presently working with Graffiti Theatre Company on  their research project, Raising my Voice, which looks at developing young people's voices in decision marking. I have planned the series of workshops, the learning outcomes, the engagement of the class teacher and the schools and I facilitate the encounters. I'm a qualified teacher, an actress and facilitator. I have also developed many of Graffiti's Teacher Resource Books. I really enjoyed developing the Doctor Darkness workshop with Síle and linking it into the Curriculum. I find working collaboratively with colleagues and teachers is very productive allowing sharing ideas, best practice, reflection on what works well, observing and supporting one another in order to make rich and memorable encounters for the children.
---
Other:
(Curator, agency, etc):
Since 1984 Graffiti Theatre Company has provided a unique brand of excellence in drama and theatre work for young people.
True to its original aims of educating through a vibrant theatre event framed and extended by top-quality educational materials the company has provided over 100 productions to young people from birth to young adults. The success of the work is evident from the rapid take-up of both theatre tours and drama programmes. 16 years ago the company decided to extend its remit to include a service in the Irish language. Déanann Graffiti as Gaeilge ar a laghad léiriú amháin gach bliain i ngaelscoileanna agus i scoileanna sa Ghaeltacht. In recent years, the demographic served by Graffiti has extended to the very youngest audiences, with specialist Early Years arts experiences. The original professional theatre company has now expanded its role to offer further resources through its substantial Outreach Department and two attached Youth Theatres, Activate and Physically Phishy.
After Dark is the centre of an educational theatre programme suitable for children in first and second class. It is designed to complement the SPHE, English, Drama and Art programmes.
---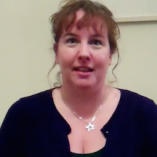 Artist(s)
Síle Ní Bhroin
Karen Kelleher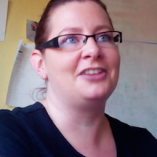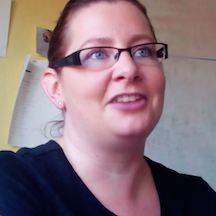 Teacher(s)
Muireann McSweeney
Claire Lannin
Artforms
School Level
School/
Participant Group
St. Vincents Girls National School, Cork
---
No. Participants
180
---
Region
Age/Class
First / Second Class
---
Dates
12 Oct - 20 Nov 2015
---
Weblinks
---
Leading Agency
Graffiti Theatre Company, Cork
---
Key themes/ lines of enquiry
Theme: The darkness and fear of the dark (Nyctophobia). The children had already seen the performance of the play After Dark by Mike Kenny. In the play, a young boy is afraid of what the dark brings and takes a strange journey to overcome the fears his sister creates to scare him.
---
Curriculum Strands
Drama, English, SPHE, Science.
---
Educational Drama creates a world in a classroom where the exploration of a fictional hypothesis allows everyone to have a voice, to share authority and to explore ideas.

Graffiti Theatre Company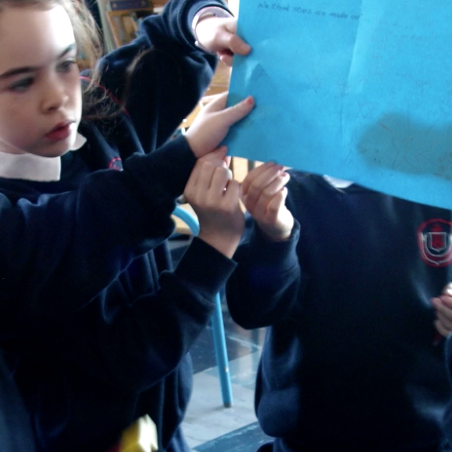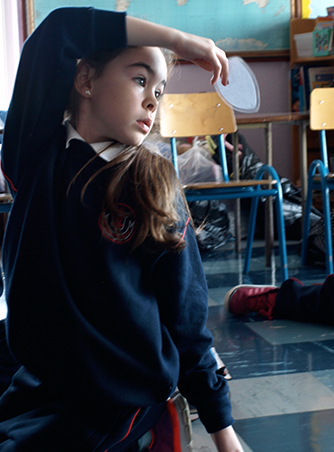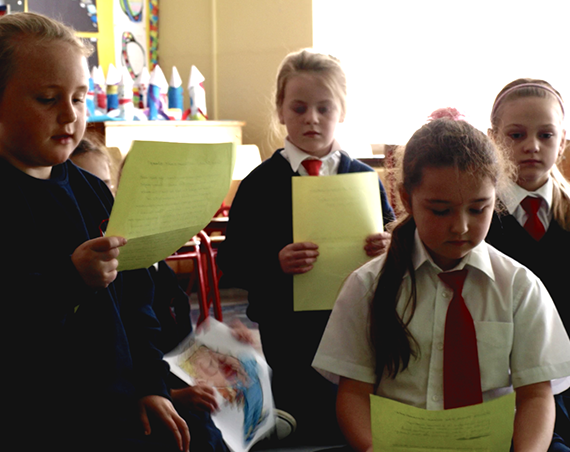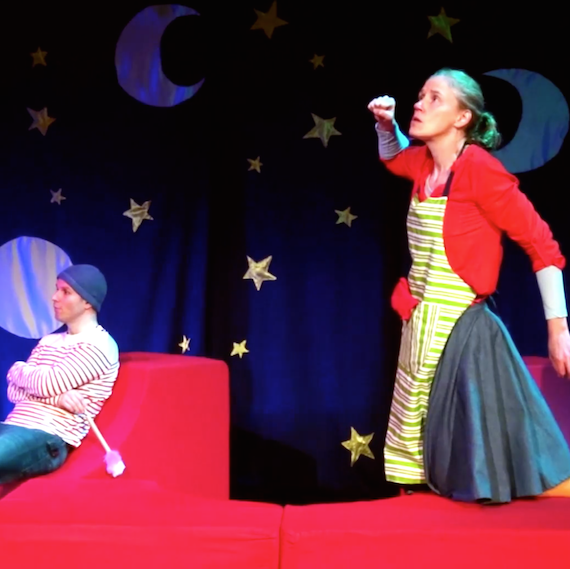 ---