Refine by Region
Refine by Art Form
Refine by School Level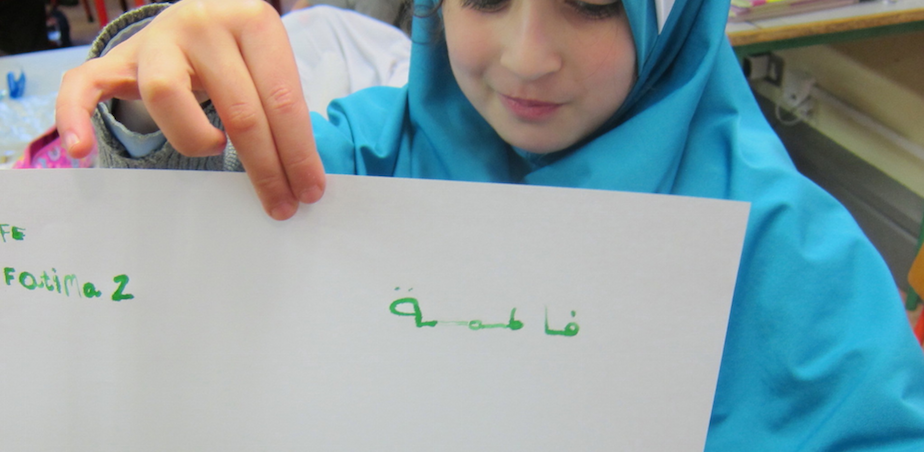 Cubes & Compromise – Visual artist Helen Barry engaged in a 12-week collaborative residency with 1st class children in the Muslim National School, Clonskeagh. Together they explored components of Islamic art and design using a cross-curricular approach. The project was child-led; the children had much broader ambitions of what could be explored through art and creativity. One of the objectives for Helen was to clarify her methodology and approach to collaborative practice within the context of Aistear: the Early Childhood Curriculum Framework. The residency was supported by The Arts Council's bursary awarded to Helen in 2013/14.
Tell us the story of your project – What was it about? Who was involved? How did you begin?
Helen Barry, Artist
My decision to approach the Muslim National School was instigated by key themes of my own studio work. I use many of the principals of geometry and symmetry found in Islamic art and architecture in the design and creation of my own work. A strong aspect of my work examines the architectural spaces of sacred buildings and the communities that use these spaces. I had also just completed another residency with senior infants in Rathfarnham Educate Together National School and I wanted to base myself in a school that had a completely different ethos. It seemed a natural choice to invite children of a similar age and a teacher from the Muslim National School to join me in a 12-week collaborative residency.
I asked the children's teacher June Kelly to feed directly into the sessions and guide me as to the relevance of what we were doing in relation to the curriculum. I am interested in learning about the pedagogical development of children and how creativity can enhance cross-curriculum learning. My work with early years children had become an integral part of my practice and I wanted to challenge my approach to and understanding of collaboration and how this impacted on my work and why I was compelled to work this way.
One of the objectives was to clarify my methodology and approach to collaborative work within the context of Aistear: the Early Childhood Curriculum Framework. This residency was made possible through The Arts Council's young peoples and children's bursary award scheme I received in 2013/14.
June Kelly, Class Teacher
Helen Barry arrived to our school, The Muslim National School, last September beaming with enthusiasm to complete a 12-week collaborative residency. The children took to her immediately and she developed a very strong rapport with them. The focus of the project initially was geometry and symmetry. Both geometry and symmetry are a major focus in Islamic Art and Islamic architecture. On Helen's first visit, when we got to see samples of her work, it was clear that there were strong parallels between her work and Islamic Art.
How were the ideas developed and how did the young people, artist and teacher work together?
Helen Barry, Artist
Initially I had proposed to explore elements of maths, geometry and Islamic design with the children and very quickly it was clear that the children had their own ideas of how we would actually do this and lots of other things. My approach to collaborative work allows the children to lead the direction and content of the work; this in turn influences the overall process and techniques we use. As my own work primarily focuses on sculpture we started with exploring and constructing 3D spaces. We used a lot of non-traditional art techniques and materials as we moved about measuring the room together; we asked a lot of questions, chatted, laughed, shared stories, worked in pairs and we rarely seemed to sit down. I tend to work on a very large scale with children; using our entire bodies in the creative process from lying on the ground to climbing into spaces, exploring under the tables to building installations. This also demands the practical involvement of the teacher, which was given enthusiastically and consistently by teachers, staff and, at times, assistance from older children.
Even though I was keen to use maths and geometry as strong central themes we veered off through many different areas of the curriculum that demonstrated the richness of the children's skills and interests. The children's oral skills were particularly strong. They had a wonderful ability to present images of family life and how important it was to share. Their imaginations had few boundaries and the groups' playful dynamic supported me to be more open to their ideas and to test out new media. As the weeks progressed I realized that it is not only the children and teachers who must be open to the process of experimenting but the artist too as things do not always go according to plan. We used shadow puppetry to explore their strong sense of storytelling, filming their characters coming to life using the sunlight streaming into the classroom. English was not a first language for many of the children yet they created a varied narrative for their plays overcoming many language difficulties.
June Kelly, Class Teacher
On Helen's first visit she showed samples of her work from her website. The children were completely in awe. Over the twelve weeks the children made shadow puppets and created their own shadow puppet performances and they also helped created the spectacular stained glass effect silhouette cubes. It felt like Helen was merely guiding the children and they came up with most the ideas and did a lot of the work. Mrs Altawash, Ms. Davin-Park and I also helped guide the whole process along.
What aspects of the project made you smile? What aspects of the project made you feel challenged?
Helen Barry, Artist
There were many elements that made me smile throughout the residency from the children's enthusiasm and their delight in trying to teach me Arabic, Sarah's Story telling of her Uncle's bee hives on the roof of a building in North Africia and producing enough honey for his family, Ms Asiyo Altawash's practical solutions to my overly complex ones and much more. Throughout all my residencies I need to ensure that what we are doing is relevant to my own work. We followed a number of different lines of enquiry and I often found it challenging to correlate one strand with another and where it related to my own work. The children were curious, playful and very giving and I wanted to capture this essence in what we would create. I struggled with how this would come together with what we were exploring and where it sat with my own work. As we created our final pieces two women who walked through the space we were working in each week observed that our cubes were reflective of 'The Kabba' in Mecca and the images reminded them of the energy of children. I could not have had more positive feedback.
June Kelly, Class Teacher
I thoroughly enjoyed the children's puppet shows, using shadow puppets. It was great to see them so motivated and engaged during their performances. I also enjoyed watching the children when they used the quills for writing. Their curiosity and enthusiasm was infectious.
I found the spontaneity of process quite challenging, in that I am so used to planning my lessons with an end vision or product in mind. I had to take a step back as the children played a huge role in deciding what direction this project would go in. It was a huge and effective learning curve for me.
What insights from the project are worth sharing? (These may seem small, but are significant to you)
Helen Barry, Artist
The children were at different levels, for some languages proved to be an initial obstacle but there were children in the class who had special needs and I found that when using a creative approach, it was not apparent as to who these children were. I always ask the children what do they know about 'artists'. The children in the Muslim National School were the first to say artists were men and women, in all other schools the children say artist are men.
June Kelly, Class Teacher
Sometimes as teachers we may over-plan activities and lessons and in doing so we are perhaps guilty of curtailing the children's creativity.
Has anything changed as a result of the project?
Helen Barry, Artist
I have become more confident in allowing the process to go in directions that are new both in terms of the mediums we use and more importantly the content of what we are exploring. I am more open to allowing the children have stronger role in where we are going to go.
I have returned to the Muslim National School to do a second residency, this time with younger children in Junior Infants and this is running concurrently with a second residency with the Dominican National School in Dun Laoghaire. This residency is being supported by The Arts Council YPCE Bursary award 2015.
June Kelly, Class Teacher
For me personally, I think something has changed. I am hopeful that I will be more confident in allowing the children have much more input into my art lessons. It's okay to deviate from the plan and never to underestimate their ideas and input. I also hope in future in my art lesson to completely restrict my use of templates in order to further the children's opportunity to be more creative.
Spotlight
---
Artist(s):
Helen Barry - I am a visual artist who engages in a collaborative practice with early years children. They inspire and challenge how I approach my work and have become a driving force in curating the content of and editing my work. My residences with early years children have provided me with a testing ground to thoroughly explore my ideas and inspire new works. I believe that creativity is crucial to the holistic wellbeing and development of the child. Creativity across all disciplines supports cognitive, emotional, pedagogical and social development. My collaborative practice being supported by the Arts Council and I have been awarded a second Young People & Children Bursary Award.
My other early years arts initiatives include 'I See You, I Hear You' seminar and documentary 2013 https://vimeo.com/67000747; 'Matisse: Drawing With Scissors' dlr lexicon 2015; 'Artist At Work' residency with DLRCC arts office, dlr lexicon; 'You Can Play Too!' interactive arts programme for parents/children and book of the same name I wrote and illustrated 1998; 'Learning about Learning' DLR creative practitioners https://dlrprimaryarts.wordpress.com residency profiled on 'Arts In Education' Department Of Education online portal; Curator/artist 'Seilmide' arts initiative co- created with and for early years children https://towersanddomes.wordpress.com/; My Current early years residencies include junior infants Muslim N. S. and senior infants Dominican N. S.
---
Teacher(s):
June Kelly - I have been teaching in the Muslim National school for over ten years now. I have taught a variety of classes throughout my time in the school. Art as always been a subject that I enjoy teaching so I was very keen when the opportunity was presented to me to get to work with a 'real' artist for 12 weeks. I had never taken in part in a project like this and I really enjoyed being part of the whole process. I also found it to be a great learning experience for me professionally and personally.
---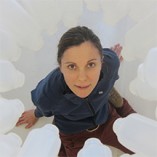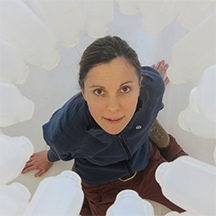 Artist(s)
Helen Barry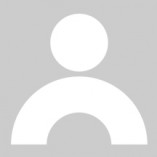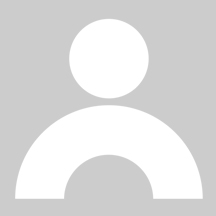 Teacher(s)
June Kelly
Sinead Davin Park (Learning Support Teacher)
Asiyo Altawash (Special Needs Assistant)
Artforms
School Level
School/
Participant Group
Muslim National School
---
No. Participants
28
---
Region
Age/Class
1st Class / 6-7 year olds
---
Dates
Sept-Dec 2014 / Aug 2015
---
Weblinks
---
Key themes/ lines of enquiry
Creative approaches to cross curriculum learning
Aistear: the Early Childhood Curriculum Framework
---
Curriculum Strands
English Strand : Oral language
English Strand Units: Emotional and imaginative life through oral language, Developing competence and confidence in using language, and Developing cognitive abilities through language
Maths; Shape and Space.
History; Story.
Drama: To explore feelings, knowledge and ideas leading to understanding.
Art: Drawing, Print, Construction, Fabric and Fibre.
---
For me personally, I think something has changed. I am hopeful that I will be more confident in allowing the children have much more input into my art lessons. It's okay to deviate from the plan and never to underestimate their ideas and input.

Class teacher, June Kelly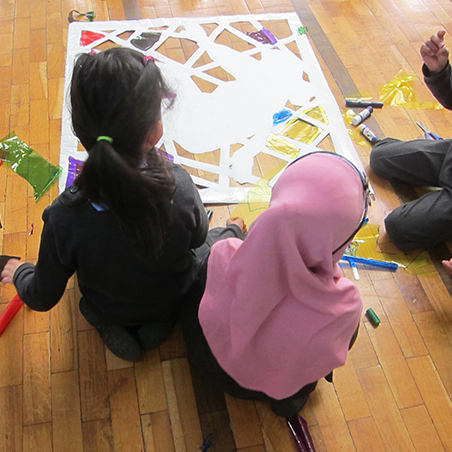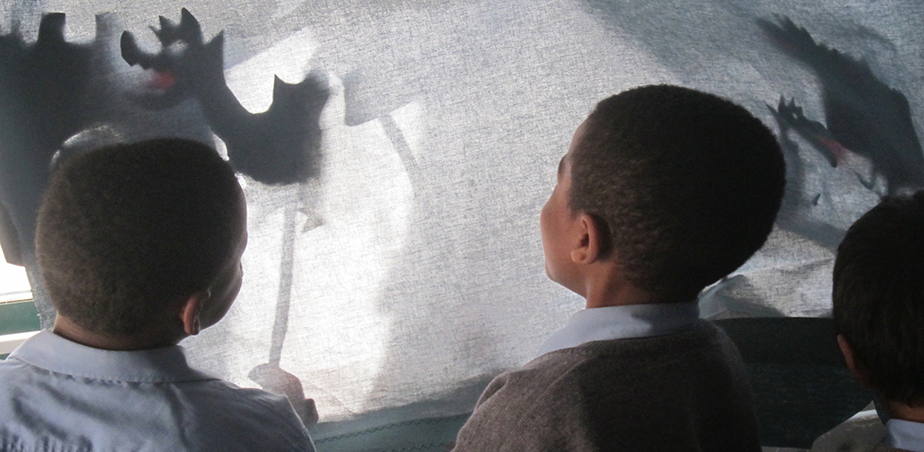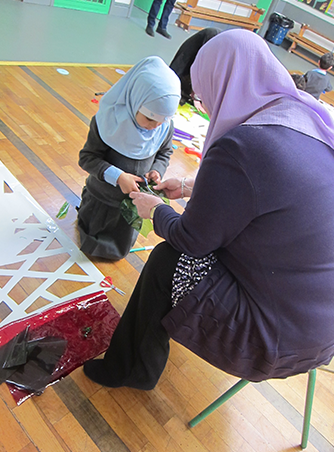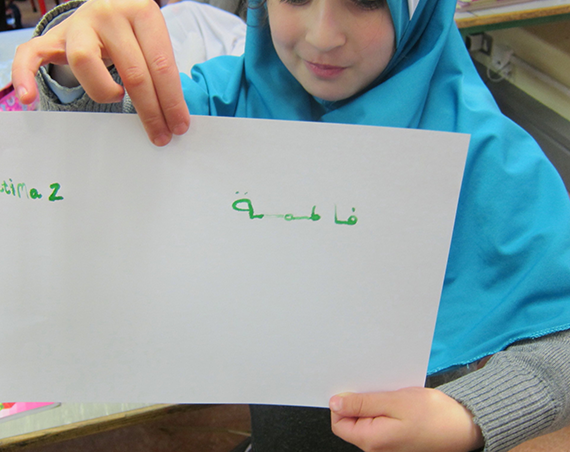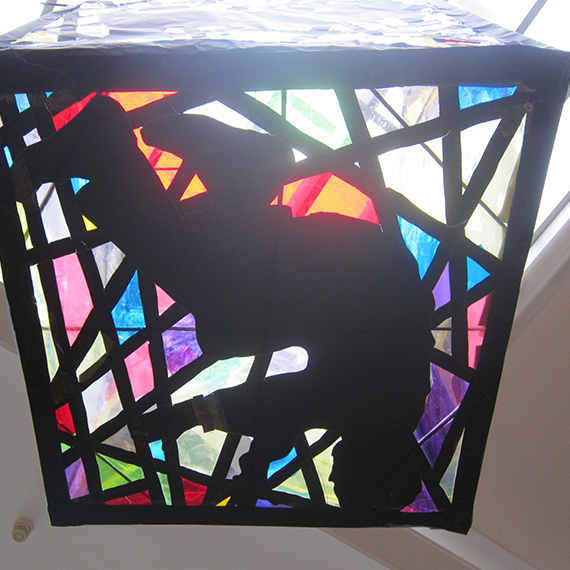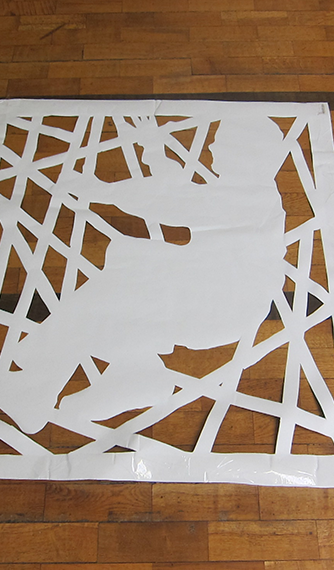 ---
Similar Projects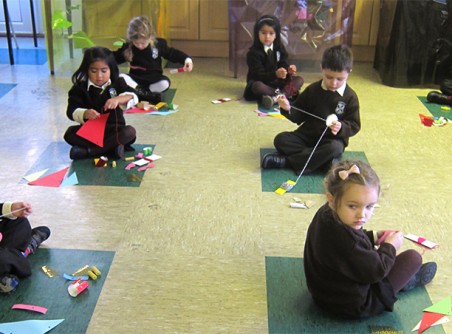 Artist Helen Barry works with Teacher Joanna McCallig and Junior Infant children from Dominican National School, Dun Laoghaire.
---