Refine by Region
Refine by Art Form
Refine by School Level
Teacher-Artist Partnership (TAP) Project – Donal of Dunamase and the mighty boar of Ballyfriar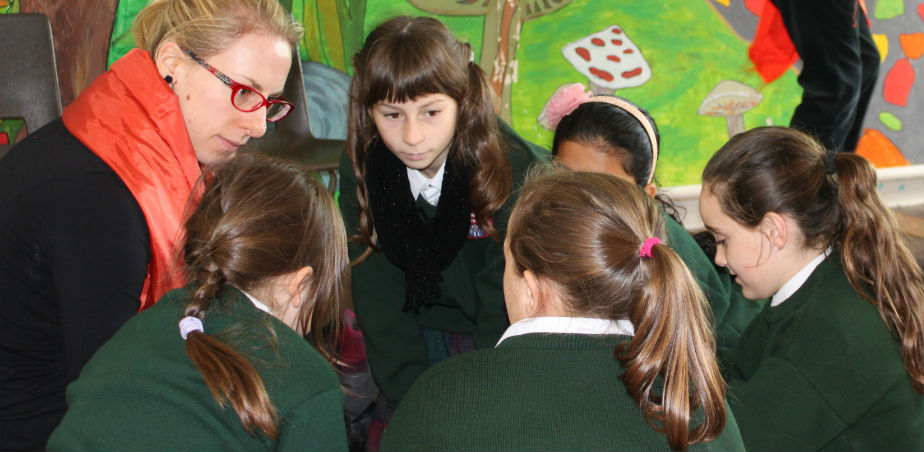 Teacher-Artist Partnership (TAP) is a unique Department of Education and Skills initiative for supporting and enhancing arts in education in primary schools. The CPD Summer Course and residency programme is now mainstreamed and consists of free DES approved (EPV days) Summer Courses operating in each of the 21 full-time Education Centres in Ireland. The initiative includes funded Artist in Residency opportunities in which participating teachers and artists work together in collaboration in the School during the following academic year.
For more information click here.
Tell us the story of your project – What was the impetus? What was it about? Who was involved? How did you begin?
There were three central elements in our partnership; a teacher who is also an archaeologist, a drama facilitator who loves to weave a dramatic tale and a class of lively, enthusiastic 3rd class pupils. Joanna is a vastly experienced drama facilitator who has been working in the field of Educational Drama for many years and Jenny is a dynamic teacher with a previous career in archaeology and a history of engagement in theatre and youth drama.
Joanna Parkes, Drama Practitioner 
When I'm planning my drama sessions I focus on creating a story that evolves over a number of weeks through a drama process. Developing a narrative arch in this way means you can respond to the elements of the story that are of particular interest to the children involved and can reflect the unique contributions of all those involved so this project was an ideal opportunity to merge Jenny's and my skills and experiences in a collaborative venture.
Jennifer Buggie, Teacher
I have a deep love of history, archaeology and the arts, therefore we decided to locate the story for the drama at the local Dunamase monument. This commanding ruin provided an ideal vehicle to weave a magical story and to entwine my professional experience with a place of local interest and beauty. The result was 8 weeks of adventure, dramatic recounting and thoughtful reflection through the story which we called Donal of Dunamase and the mighty boar of Ballyfriar.
How were the ideas developed and how did the young people, artist and teacher work together?
Joanna Parkes, Drama Practitioner 
This particular dramatic narrative developed over 8 weeks when I visited the school and working with Jenny and her 3rd class for 90 minutes every week. The story began in the present when the class went into the role as archaeologists on a dig at the historic site of Dunamase.  Working with care and attention on this imaginary dig the girls discovered ancient artefacts dating from the 800's. Over the next two weeks in girls made the objects they had imagined finding on the dig, these objects were then incorporated into the drama narrative.
Jennifer Buggie, Teacher
My class went on an incredible journey back in time to 814CE and the fort at Dún Masc through the medium of drama. Over 8 weeks we worked together as children, artist and teacher to imagine this community of people, their everyday lives and preoccupations. The children were divided into six different family groupings: the Potters, Weavers, Druids, Metal Workers, Farmers and the Clan Leader's Family. In history the girls developed their background knowledge of each families' skill-set in the daily life of the dún so that in drama, using small group and whole class improvisation, in role negotiation, discussion,  teacher in role and mime the children could explore and develop their roles, giving depth to the drama personae.
Joanna Parkes, Drama Practitioner 
Through immersion in the rich narrative the children came to know the characters in detail. They were introduced to their Clan Leader, Donal, his unconventional and inspirational daughter Alfric, and her cousins Tadhg and Tuan. They developed an understanding of these key characters and the significant events in their lives. Jenny used her dramatic skills to great advantage when in role as the Seanachaí, captivating her class with a dynamic and hair-raising account of the great battle between the Clan Leader and the wild boar.
Jennifer Buggie, Teacher
I was delighted with how the class became absorbed in the story through the characters Joanna created and they developed. The class entered entirely into role as members of the Clan, resolving dilemmas, engaging in debate and finding resolution along the way. I noted that they particularly enjoyed playing Alfric, the feisty daughter. When we reflected on the process afterwards, the girls noted that she became a positive role model for them as they enjoyed her energy and physicality. They noted how much more they enjoyed learning about history through immersion in a story by becoming people in the past and finding out what everyday life was like.
They got a true insight into what has changed, but also how people and their preoccupations remain similar in 2014 in 814. When I gathered the children together again in 2018, as they prepared to graduate primary school, the girls remarked on how their drama had helped them to build self-confidence, develop their understanding of each other and work as part of a group. Their memory of this work was bright, nuanced and life enriching.
What was your personal experience of the project in terms of successes and challenges?
Successes
Joanna Parkes, Drama Practitioner 
The reason I believe this partnership was so successful was that it was a shared, collaborative experience. Every element of the process, from the initial imagining of the story to the weekly planning and delivery was developed in partnership so we had a unified vision and understanding. Since we were equally involved and connected, when the children were particularly engaged with the reality of their drama or when unexpected "moments of magic" occurred, there was someone to observe, share and reflect with.
Jennifer Buggie, Teacher
I loved having a partner in the room. Joanna's deep well of drama knowledge, creativity and skill encouraged me to develop and share my own creative skills through my work with children. This project was a professional turning point in my career approach as it encouraged me to look outward from the classroom. My partnership and friendship with Joanna was crucial to this change of perspective. I actively enjoy and seek engagement with professionals outside of teaching to help enrich the educational experience of my pupils and my own professional skills.
Challenges
The most significant challenge in this project lay in documenting learning, as process drama focuses on engagement. Creativity is experienced, felt and communicated in the dramatic moment. The work of artist and teacher focuses on creating the opportunity for dynamic "moments of magic" for the children. There is then a separate and challenging task of evidencing this ephemeral form of learning.
Joanna Parkes, Drama Practitioner 
Throughout my work I have found process drama presents unique challenges in terms of documentation. Learning is focused on the emotion and engagement of the moment rather than in presentation, performance and product. Photography and recording rarely capture or communicate powerful moments of drama, story and learning that emerge, such as Donal's funeral or the election of Alfric.
Jennifer Buggie, Teacher
Within the project we were deeply conscious of the "invisibility" of our creativity and learning to all except those directly involved. This generated unique pressure to create tangible, concrete evidence of our work. I consciously planned lessons that developed and produced pieces of writing, construction, photography and visual art we not only extended, but evidenced our learning. The pressure to record tended to pull the artist and teacher out of the dramatic moment and into the role of an outsider recorder.
What was significant for you about the project that is worth sharing?
Jennifer Buggie, Teacher
Working through Joanna's narrative, I developed a programme of broad and deep curricular integration for the class. This approach, which encompassed English literacy and writing, history, storytelling, visual arts, illustration and music, was significant in enabling the children to engage knowledgably and immersively in learning. As they spent time outside drama thinking about the story (making their artefacts in Art, writing the story in English, completing their Drama Journals) they became active agents in the story. This resonated more deeply with them than other classes who limit drama reflection to the confines of a weekly drama lesson.
Joanna Parkes, Drama Practitioner 
As a free-lance artists I can often feel isolated in my work, so I really appreciated the opportunity to plan and deliver the drama workshops with someone else who was equally committed to the process. Also, compared to other drama projects, it was very striking to witness how much more embedded and committed the children were to the drama process because of the cross curricular nature of the project and how it resonated throughout the school week. Due to the extra time and energy Jenny dedicated to this process, outside our drama sessions, the pupils had the opportunity to genuinely connect to the fictional community we created and to actively engaged with the characters, with their dilemmas and life-choices.
Has anything changed in your work as a result of the project?
Jennifer Buggie, Teacher
Since the 2014 initiative, Joanna and I have engaged in subsequent projects with children and developed a workshop for educators on 1916. I employ the skills I developed in partnership with Joanna throughout my professional work, with both colleagues and children. This project has made me more cognisant of the arts and creativity in our schools. I believe passionately that all children deserve life enriching arts experiences. Through looking outward, reflecting inward, communicating and connecting, our primary schools can be centres of whole-child and teacher learning where physical, emotional and spiritual needs are expressed, acknowledged and fulfilled.
Joanna Parkes, Drama Practitioner 
Working with Jenny during this partnership gave me an ideal opportunity to appreciate the full potential of working in partnership with a committed and enthusiastic teacher. Working in this way does take time and extra resources but as a result of this partnership, I realised more than ever that it is worth cultivating a strong collaborative relationship with the teachers in such projects. It is very evident that when this committed collaboration happens, the engagement and connection is deeper and more meaningful for the pupils.
Spotlight
---
Artist(s):
Joanna Parkes is an experienced Educational Drama practitioner who has worked in a wide range of formal and informal educational contexts for many years, including the Primary School Sector, Special Educational provision,  3rdLevel Universities including Trinity College and Marino Institute of Education and the Outreach Education Department of the Abbey Theatre.Joanna was nominated by the Abbey Theatre to be one of six lead Artists in the pilot,  Exploring Teacher/ Artist Partnership.
She collaborated with Sarah FitzGibbon to produce two resource books for teachers which outline engaging and dynamic Drama Schemes, Step By Step Together – Drama and Development Education in the Primary Classroom, and Step By Step Educational Drama- A cross curricular use of Drama in the Primary classroom (both published by NAYD, in 2010 and 2006).
She was commissioned by the Ark (Cultural Centre for Children) to develop a series of playful interactive experiences for 2 to 4-year olds using drama, story and theatrewhich went on to tour to other venues around the country.  This year (2018) she is collaborating with Joanna Williams (Little Bigtop) on an interactive and experiential performance for young audiences called Whatever the Weather which is going on a national tour to nine regional Arts Centres.
She has just completed a Masters in Early Childhood Education at Marino Institute of Education, researching the rich potential of drama and story when working with young children.
---
Teacher(s):
Jenny Buggie is a primary school teacher in Holy Family Junior School (Previously Sacred Heart) Portlaoise and workshop facilitator with Laois Education Centre and the National Induction Programme for Teachers. Jenny was nominated by Laois Education Centre to be one of six lead teachers in the pilot, Exploring Teacher/ Artist Partnership. She has a Diploma in Educational Leadership, focusing on drama in the primary school and a Master of Education, which explored identity in teaching. She is passionate about her work in education and loves to find new ways to engage and challenge the children that she teaches. Jenny is currently working with the children and staff of Holy Family Junior School through the Arts Council's Creative Schools initiative.
---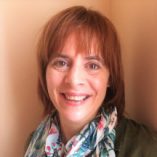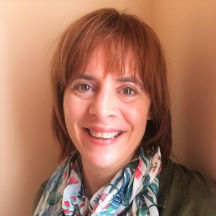 Artist(s)
Joanna Parkes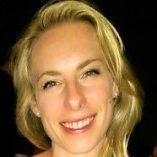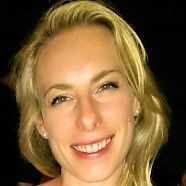 Teacher(s)
Jennifer Buggie
Artforms
School/
Participant Group
Sacred Heart Primary School, Portlaoise, Co. Laois
---
No. Participants
36
---
Region
Age/Class
3rd Class
---
Dates
September – December 2014
---
Leading Agency
Teacher-Artist Partnership (TAP) CPD
---
Other Partners and/or Funders
Department of Education and Skills (DES), Department of Arts, Heritage and the Gaeltacht (DAHG), Encountering The Arts Ireland
Key themes/ lines of enquiry
Enquiry based learning, history, archaeology, story, place, gender and identity
---
Curriculum Strands
Drama to explore feelings, knowledge and ideas, leading to understanding
Reflecting on drama
Co-operating and communicating in making drama
Skills: Working as a historian
Local history
Story
Early people and ancient societies
---
Research or relevant publications
Arts in Education Artist/Teacher Partnership
---
Through looking outward, reflecting inward, communicating and connecting, our primary schools can be centres of whole-child and teacher learning where physical, emotional and spiritual needs are expressed, acknowledged and fulfilled.

Jennifer Buggie, Teacher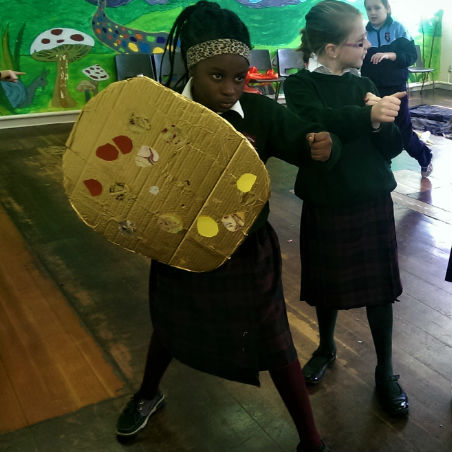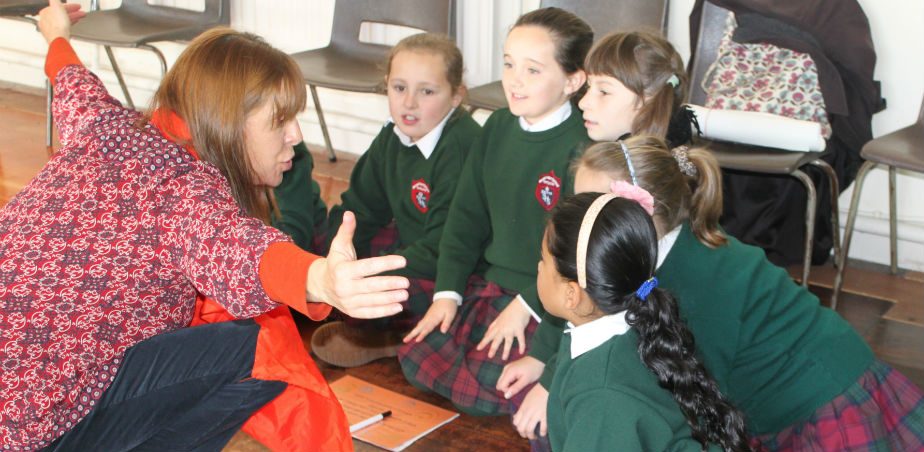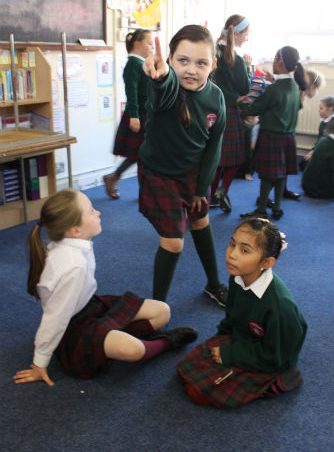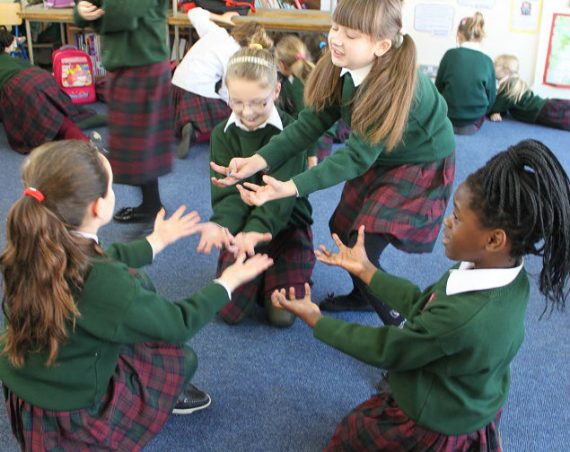 ---