Refine by Region
Refine by Art Form
Refine by School Level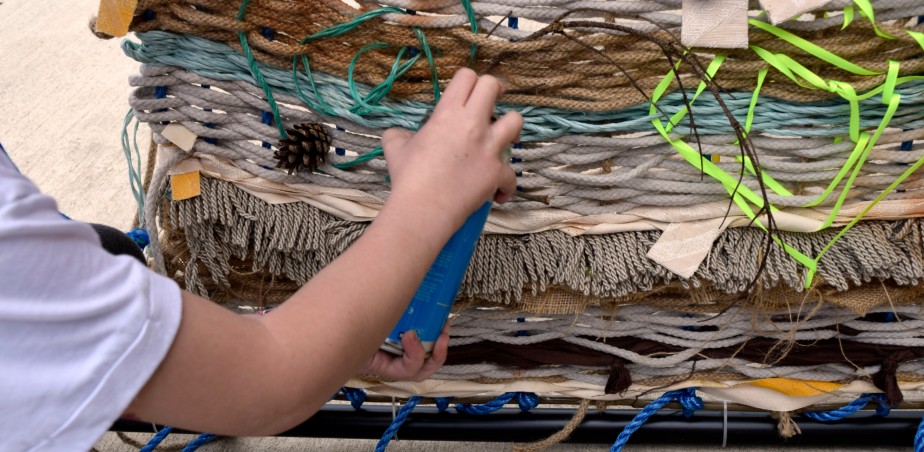 Tell us the story of your project – What was the impetus? What was it about? Who was involved? How did you begin?
CRAFTed aims to provide skills for life through positive, collaborative and joyful engagement with craft and design processes. By emphasising the making journey rather than finished products, CRAFTed allows space for experimentation, active learning and personal growth. It focuses on harnessing the creativity of every child, valuing individual creative expression.
Inspired by their chosen theme of Irish Myths & Legends, 3rd class children of Scoil Bhríde explored the fabric of storytelling with fashion designer Aoife Thomas and arts enthusiast-teacher Mandi Mc Daid. In project development, the group explored processes of weaving, wet felt making, block printing, applique and relief casting within the classroom. In discovering new processes, the group had new means of illustrating and bringing to life elements from the Irish Myths & legends they were covering in other subjects on the curriculum.
Aoife Thomas, Designer:
Our approach to the CRAFTed project at Scoil Bhríde was to explore the children's chosen theme through the fabric of storytelling. As designer/ maker, I would share knowledge of design and craft processes. Through first developing thematic, cross curricular work in class with teacher Mandi Mc Daid, the group was equipped with the stimulus to generate authentic, creative work. They would illustrate their individual thoughts and ideas around the chosen theme in process led classes.
Mandi Mc Daid, Teacher:
The students collaborated with Aoife and I at the initial meeting stage and offered their ideas as to what theme they would like to work on for their CRAFTed project over the term. There were many similarities in their suggestions and they tied in well with Irish Legends, three of which I planned to cover during the term. So, the theme was set. We embarked on class trips to Glenveagh and Drumboe woods to back up class lessons, collecting natural woodland materials for learning about in class and for use in various art, craft and design activities.
How were the ideas developed and how did the young people, artist and teacher work together?
Aoife Thomas, Designer:
The group compiled visual research, visiting Glenveagh Castle and Drumboe Woods in Donegal as inspiration for our project. Like Finn Mac Cumhaill the group foraged, collecting items of interesting shape, texture and colour: leaves, cones and bark. Alongside studies of three Myths and Legends, the class created drawings, rubbings and studies of their visual research. We incorporated the items collected at a later stage, adding as surface decoration to a large scale group-weaving piece developed by the children. The group imagined the woven piece to represent the cape worn by Finn Mac Cumhaill, hunter gatherer and leader of the Fianna. The project grew and developed in ongoing discussions and through a reflective process, focused around the theme of Myths and Legends. Each child could choose what element of the theme they wished to focus on whilst actively learning a new process.
Mandi Mc Daid, Teacher :
The children studied a selection of Irish Legends in preparation for our work with Aoife. These included Setanta – CúChulainn, Oisin and Niamh in Tír na nÓg and Fionn MacCumhaill.
Aoife supplied materials for each visit and for learning a new process. Aoife explained the creative processes involved, in steps. As teacher, I clarified these instructions where necessary and together, Aoife and I supported the children as necessary in their work.
What was your personal experience of the project in terms of successes and challenges?
Aoife Thomas, Designer :
The success of this project for the collaborators lay in the group's exposure to a number of new ways of sharing and illustrating individual ideas. The children could see that there were new and interesting ways to create work by hand in fabric and fibre through learning a new process in a supportive and encouraging environment. The teacher had a great relationship with the children which I think laid the foundation for the child led development of the project.
Meeting the children and teacher Mandi Mc Daid prior to commencing our project in order to have a group brainstorming session, allowed the children to direct the project from the outset. It offered a chance for each voice to be heard with support from the designer and teacher when setting the aims of the collaborative project with the children.
Having created initial work on the theme through complimentary studies, the children had many ideas for what they wanted to create or illustrate when learning a new process. As a group, we moved forward together in steps in active learning. This method allowed time for the teacher, classroom assistant and myself as craftsperson, to support individual children as needed when working on the 'next step' in the process. This approach gave the children an opportunity to help and support each other as equal collaborators and contributors on this project.
Documentation of the process led approach was challenging at times. The approach was child centred with a focus on each participant being happy, content and engaged in their process led work within a supportive environment. Due to this, at an opportune moment we would capture elements of the process led environment through photography.
Mandi Mc Daid, Teacher :
It was lovely to see the children expressing their knowledge of the Irish Legends in such a unique way, exploring textures, fabrics and fibers; experimenting with skills that were new to them. I have gained knowledge and confidence in new art techniques that I will be able to use in my own future teaching also. It was lovely to work with Aoife, an expert in the area of fabric and fiber, which is an area of the arts curriculum that sometimes feels neglected due to lack of resources, ideas or expertise.
What was significant for you about the project that is worth sharing?
Aoife Thomas, Designer :
As an arts and craft enthusiast in the classroom, Mandi was interested in gaining knowledge and inspiration for the Fabric and Fibre strand as it was an area she wanted to build upon personally. For this reason, our aims and objectives for the project included that each child would explore a number of different processes, and that teacher Mandi would gain inspiration for delivering future lesson plans in fabric and fibre.
The children were familiar with voicing their ideas and were familiar with creating their own individual work. They could question and suggest ideas with confidence. This allowed for us to explore many different processes in an authentic and meaningful way.
Due to Mandi's cross curricular approach in the classroom, the children could bring together knowledge, ideas and creative process to illustrate their thoughts using new found methods within a process led environment.
Mandi Mc Daid, Teacher :
Following the showcase for CRAFTed along with other schools and artists in the Regional Cultural Centre in Letterkenny, Co. Donegal, the children have since displayed their project work in our own school to share the project with other classes and teachers. In this way, the ideas and skills developed in our classroom were made accessible to all other classes. It gave the children a chance to review their work and explain about how their work was created and the processes involved, to the other children in the school.
The CRAFTed experience was very enjoyable and educational for all involved in our school.
Has anything changed in your work as a result of the project?
Aoife Thomas, Designer :
Each interaction in a learning environment has an impact on my personal practice as I am constantly learning regarding methods and approaches to take forward.
From gaining newfound inspiration in working with a new group on a particular process or gaining inspiration from the sheer enthusiasm from participants when discovering the output as they learn a new craft or design process; working on creative collaborations has a profound impact on my professional practice and continuing professional development.
Each collaborator shares their own experience and approach when working on a project, meaning there are resounding benefits in every new collaboration.
In particular, with this collaboration I benefited personally from working with Teacher, Mandi and her 3rd class group. Teacher Mandi Mc Daid had a child-centred focus established within the classroom and this aligned with the aims of CRAFTed in enabling each child to develop their natural abilities in a supportive and fun environment. Providing all those who engaged with the project with skills for life through positive, collaborative engagement.
Spotlight
---
Artist(s):
­­­­Aoife Thomas is a fashion designer based in Donegal and is a member of the DCCoI Education Panel. She is a graduate of the National College of Art and Design and honed her skills working in the fashion and textiles industry within Europe and Australia, specializing in pattern making. Aoife places strong emphasis on visual research as an integral process in the evolution of her design work. She employs methods across multiple disciplines in her research towards design development. Working to scale on flat patterns and on the stand, she merges the conceptual with body and function.
She is passionate about promoting creativity as a core strength and base for building confidence from a young age.  She is also dedicated to the preservation of hand-crafted processes and working collaboratively on projects within creative industries and educational contexts.
Previous collaborations:
Academic Year 2019: Visual Arts Curriculum facilitator with teachers of all classes at Scoil Chartha Naofa, Kilcar, Co. Donegal, Ireland.
Collaborations through the Design & Crafts Council:
JCT CPD, 2019, The Model, Sligo and Sligo Education Centre.
Junior Cycle for Teachers (JCT), in collaboration with the Design and Crafts Council of Ireland (DCCoI), two-day summer CPD programme for teachers of Visual Art.
CRAFTed 2019 with Scoil Bhríde, Convoy, Co. Donegal.
https://www.dccoi.ie/learners/primary/crafted/
DesignSKILLS 2018 Coláiste Cholmcille, Ballyshannon, Co. Donegal.
DesignSKILLS is a nationwide post-primary level programme.
https://www.jct.ie/perch/resources/about/finalflyer-may-2019-designskillls-for-teacchers-of-visual-art.pdf
CRAFTed 2018, with Rockfield National School, Ballyshannon and Scoil Chartha Naofa, Kilcar, Co. Donegal
---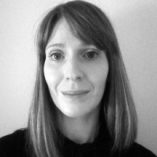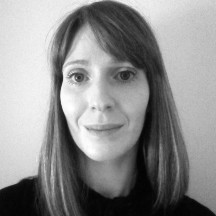 Artist(s)
Aoife Thomas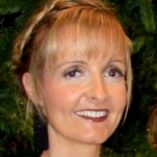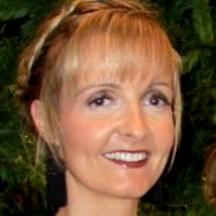 Teacher(s)
Mandi Mc Daid
Artforms
School Level
School/
Participant Group
Scoil Bhríde, Convoy, Co. Donegal
---
No. Participants
30
---
Region
Age/Class
3rd Class
---
Dates
February – May 2019
---
Weblinks
---
Leading Agency
CRAFTed
---
Other Partners and/or Funders
Association of Teachers' Education Centres of Ireland (ATECI)
Key themes/ lines of enquiry
Collaborative, joyful engagement with craft and design processes including printmaking, weaving, felt making, applique and plaster relief casting. Placing emphasis on the making journey, allowing space for experimentation, active learning and personal growth.
---
Curriculum Strands
Each of the Visual Art Strands of the curriculum featured in this project: fabric and fiber, print, colour, drawing, construction and clay.
The cross curricular elements involved the following subjects: history, geography, science, math, English and Irish.
---
Working on creative collaborations has a profound impact on my professional practice and continuing professional development.

Aoife Thomas, Designer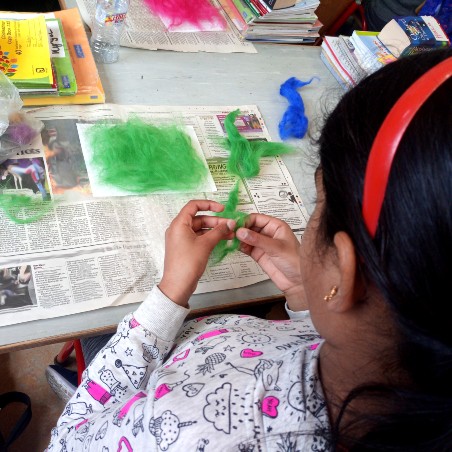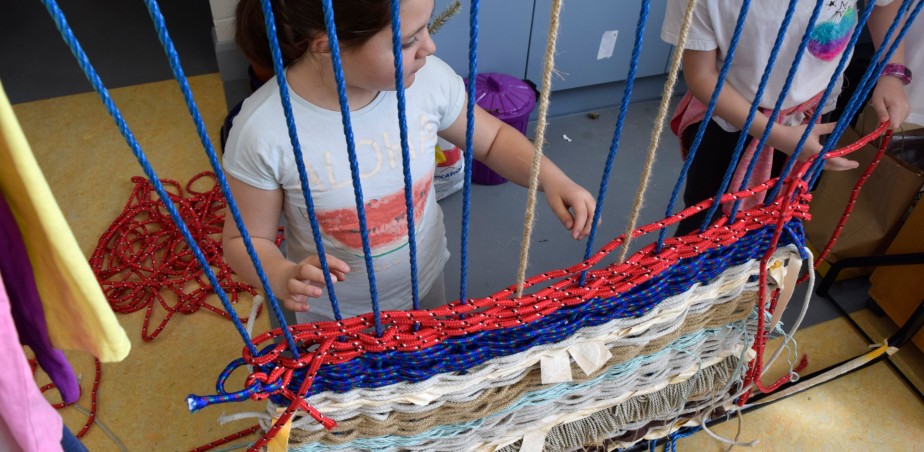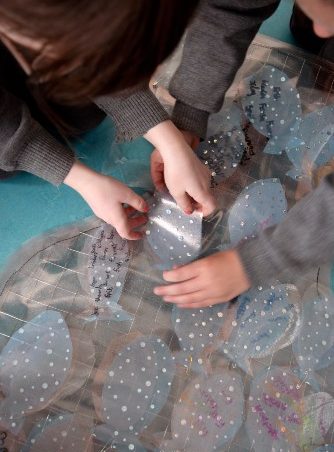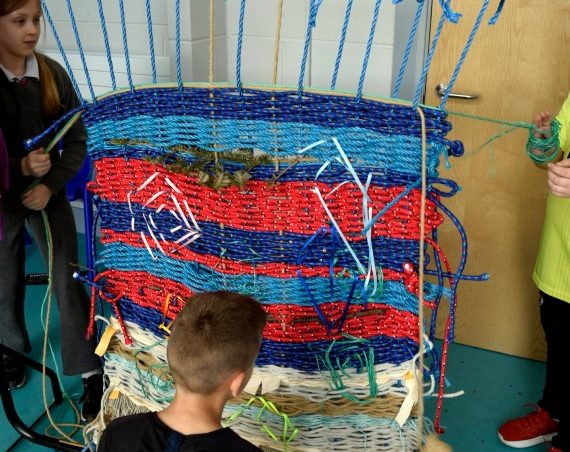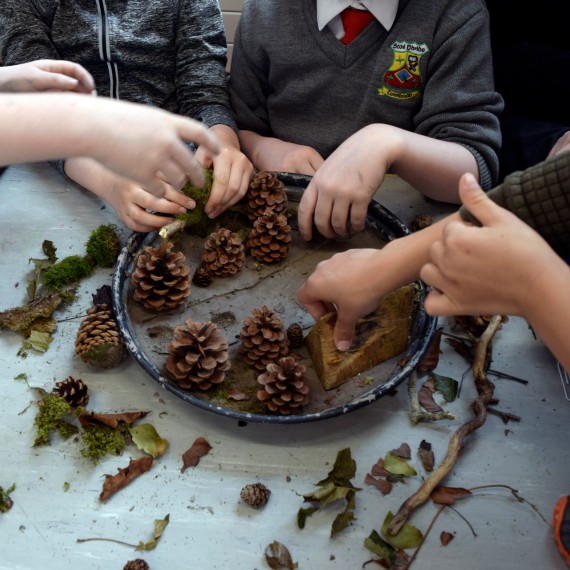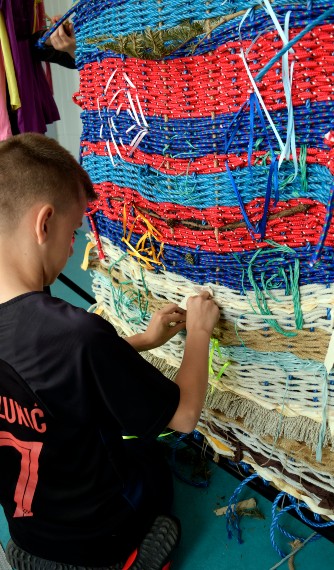 ---