Refine by Region
Refine by Art Form
Refine by School Level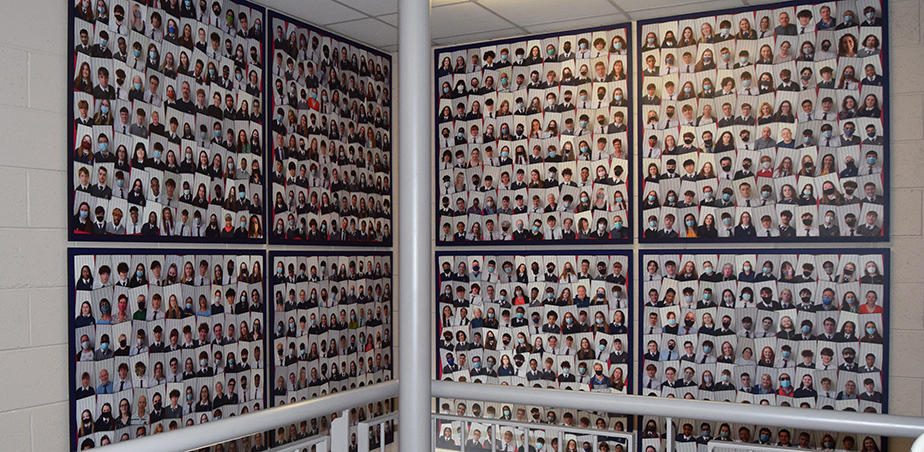 Tell us the story of your project – What was the impetus? What was it about? Who was involved? How did you begin?
Máire Hynes, Art Teacher 
We wanted in some way to record the impact of Covid-19 on life in school from September 2020. One of the greatest impacts came from mask-wearing, which changed the way we saw one another, often only half-recognising people who were familiar the previous year. New students in the school did not know what their teachers looked like and vice versa. This was the inspiration behind the "Mask On/Mask Off" whole-school art project. Almost every student and member of staff had their photo taken by a committee of TY students under the direction of Máire Hynes, Art teacher. Everyone had two photos taken, one with and one without their mask. The photos are scattered across the ten panels, so we have to search for ourselves and our colleagues and friends, mask on and mask off! Can we even recognise one another? The finished work will be a permanent fixture in the school, reminding us of these strange times.
How were the ideas developed and how did the young people, artist and teacher work together?
Máire Hynes, Art Teacher 
The idea to do something to record Covid-19 in the life of the school originated with the Deputy Principal, Jimmy Staunton. In discussions with staff members the idea to do a visual project developed and the problems associated with mask-wearing and simply recognising the students came to the fore. The Art Teacher was approached to act as "Teacher as Artist" and she chatted to senior and junior students about how they felt about wearing masks. It emerged that new students, too had difficulties recognising their teachers when they saw them maskless – and they expressed how shocking it sometimes was when they saw what the bottom part of their teacher's face looked like!! It was agreed that the project should be photography-based. Discussion about what exactly the project would look like followed and it was decided to photograph the entire school population twice; once wearing masks and once without masks. Four TY students took on the job of organising the process of taking everyone's photo and Creative Schools Week 2021 was chosen as a perfect time to do it.
What was your personal experience of the project in terms of successes and challenges?
Máire Hynes, Art Teacher 
The challenge of organising the photographing of a whole school, it's staff and students, was considerable. Inevitably individuals were missed because of absence or simply because they were not available on the day. I discussed the process with the TY students who were doing the photography but then, once I felt they were organised, left them to it. I felt that they should take on the challenge and deal with any problems as they arose. The learning value of having to solve the problems as they arose was important, I thought.
What was significant for you about the project that is worth sharing?
Máire Hynes, Art Teacher 
The impact of the project was interesting as it wasn't only about creating an art piece. It was clearly important to the school as a historical record, but the students and staff bought into it, almost all getting involved. It seemed clear that everyone acknowledged the significance of the Pandemic both as something that had to be lived with day by day and also as a (hopefully) once-in-a-lifetime occurrence. Being a whole-school project it included students, teachers, administration staff, boarding school staff, matrons, kitchen staff, cleaning staff and maintenance staff. This universal involvement had the effect of drawing everyone together and creating a sense of unity within the school.
Nancy Ryan-Jones, Student 
As a student organising and carrying out this project, I found the experience of photography exciting and new, I had only done personal photography before this and had never been given a task that would be a permanent fixture in my school such as this. We set up our station in the school foyer and went through all the classes one by one and retracing to ensure no one was missing out. TY, which is usually a very sociable year in an average time, was completely the opposite for my year because of the impact of Covid.  This project allowed me to reconnect and socialise with students in other years (under covid regulations) and made school feel a lot less stressful after months of being isolated from people who were not in your form. I also found the experience of this project very beneficial to me as I discovered a love for a new art form that I might include in my portfolio for art college once I leave school.
Alannah McAllister, Student 
I found this project to be very beneficial, and I feel it will help me in the future. A lot of organisation had to go into making it all work and to get the whole school involved. We had lists upon lists of people and we had to get them from their classes in groups of four or five. We had to make sure that uniforms were correct and eyes weren't closed in pictures. Stools had to be changed for different heights and each day we had to set up the camera in the same position as the day before. The organisation was challenging, but it was so nice to see everyone's faces, which we hadn't seen in a year!
Spotlight
---
Artist(s):
Máire Hynes, Art Teacher
Máire has been an Art Teacher in the Sligo Grammar School since 1988. She qualified as a Designer in Textiles and Fashion.
I always wanted to teach secondary school Art and have found the experience of working with secondary school students very rewarding and great fun. The Sligo Grammar School has been my second family since 1988, and this project is a tribute to the unity and family atmosphere that is palpable whenever you walk into the school.
---
Teacher(s):
Jimmy Staunton, Deputy Principal
Covid changed everything in March 2020. I felt it was important for future generations to remember and for us as a school to have some sort of record of this time. Covid affected everybody, it did not discriminate between the old and the young, people of different ethnic or class backgrounds. Whatever project we did in the school I felt had to include everyone, teaching staff, pupils, ancillary staff. The idea of the masks on/masks off developed during discussions with others in the school community. To me having such a strong visual image was going to be forever a poignant memory in the years to come. It would capture a moment in time that would never be forgotten by those who experienced it.
Michael Hall, School Principal
Covid protocols within school, lockdown and on-line learning significantly impacted on school routine. Restrictions on visitor access to the school building removed the opportunity for a visiting artist or a collaborative hands-on project outside designated pods of students.
Sligo Grammar School aimed to keep school life as normal as possible for our students and this approach encompassed taking every opportunity to provide adapted extra- curricular and co-curricular opportunities in keeping with our COVID procedures for a safe school.
The Art project allowed our students to interact in a creative experience that was inclusive of the whole school. It was cross-curricular and provided a strong visual representation of Sligo Grammar School during its Covid years. An Art project that encompassed our students, teachers, office and ancillary staff – an Art project that was inclusive of our whole school family. For our 1st and 2nd year students this is the first opportunity for us to see the students and the students to see school staff without a mask!
---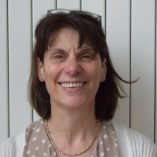 Artist(s)
Máire Hynes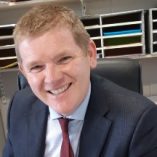 Teacher(s)
Jimmy Staunton
Michael Hall
Máire Hynes
Artforms
School Level
School/
Participant Group
Sligo Grammar School, The Mall, Sligo
---
No. Participants
450+ Whole School Project
---
Region
Age/Class
1st – 6th years plus teachers and all staff
---
Dates
May 2021
---
Key themes/ lines of enquiry
Effects of Covid-19 on School Life in 2020/2021
---
Curriculum Strands
Art & Design, History, Wellbeing
---
This project allowed me to reconnect and socialise with students in other years and made school feel a lot less stressful after months of being isolated from people who were not in your form.

Nancy Ryan-Jones, Student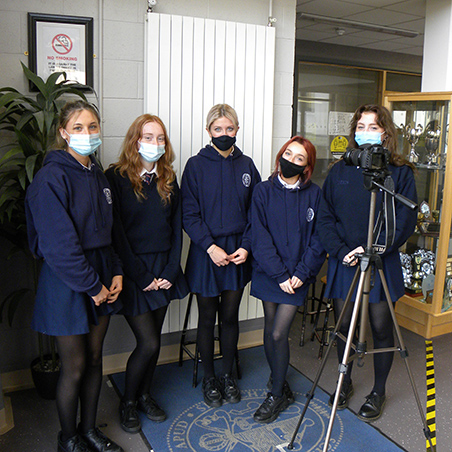 ---